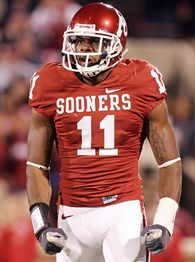 Versatility is thought of as a virtue across just about all sports. Baseball managers, for instance, often hail the contribution of utility men, who can fill in a host of spots in a pinch. In football, teams like the New England Patriots have developed an addiction to Mike Vrabel-type linebackers who can stop the run, defend the pass and even catch passes. It all sounds pretty cool.
Yet, like casting Roseanne Barr in a porn film, sometimes it's a better idea to just let the talent focus on what they do best.
That's what makes this week's news that
OU has moved Lendy Holmes back to cornerback
less than a month before the start of the season more than just a little disconcerting. Likewise, defensive coordinator Brent Venables has floated the idea of shifting senior Nic Harris, an All-American candidate at safety, to linebacker. Of course, Harris won't have to move if ex-safety Keenan Clayton can hack it at outside linebacker.
Harris and Holmes will be joined--for now--by redshirt freshmen Sam Procter at safety and Brian Jackson at the other cornerback position. Sophomore Dominique Franks, who in the spring held down the cornerback spot now occupied by Holmes, will rotate in when the team goes into its nickel package.
None of this does anything to inspire confidence that 2008 will be any different when it comes to the perpetual thorn in the Sooners' side: mediocre pass defense, particularly the big play. Recent years have seen unheralded pass games from teams like Texas A&M, West Virginia and Kansas St. gash the OU defense for long gains resulting in momentum-shifting touchdowns.
Looking at OU's 2007 defensive statistics, the Sooners ranked 43rd in the nation in pass efficiency, about 25 efficiency points higher than the nation's leader. Certainly not bad, but not that great, either. On the other hand, contenders like USC, Virginia Tech, LSU, Kansas and Ohio St. all ranked in the top 10.
The Sooners snared 19 interceptions on the season, good for 14th in the country, so that doesn't seem to be the problem. OU gave up 17 touchdown passes, good for 34th overall. Not too bad.
It gets uglier, though. OU finished 41st in yards per attempt (6.5), 79th in completion percentage (around 60 percent) and 60th overall in terms of yards per game.
The defensive numbers show that Colorado, Texas Tech and West Virginia all had success against the Sooner secondary in their wins over OU. OU averaged 1.3 interceptions per game in losses, which was in line with the team's season average. The other measures all showed marked increases, however. Touchdowns, for instance, climbed from an average of 1.2 per game in all games to two in losses. Most notably, yards per game spiked up to 272 from the season average of 228, suggesting that the Sooners were burned by the long ball in these games.
Even with all the mixing and matching going on, new blood could light a spark in the Sooner secondary. The coaches have lavished praise on the defensive backs since spring practices, noting Procter's development in particular. Harris and Holmes are proven performers with the experience and the skills to be standouts. If the incoming DBs can retain previous group's ball-hawking instincts and aggressiveness while simultaneously reducing the mental errors and breakdowns that have plagued Sooner secondaries in the past, they could outperform some of their more heralded predecessors. Even modest improvement in 2008 could be key in a Big XII loaded with outstanding offensive talent.