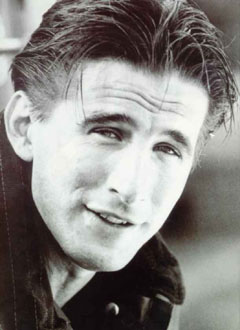 There are definitely some interesting games on the slate this week, but nothing you can't miss. It's telling that GameDay is at Vanderbilt.
Before Noon:
Backdraft
(Encore Mystery, 10:05 am to 12:25 pm)
They don't make 'em like this one anymore. No, I'm not talking about an engaging action film. I mean a big-budget Billy Baldwin blockbuster. I guess that what happens when you sign on for projects
starring opposite Cindy Crawford
. Or make a movie about... Well, I'm not quite sure what
Sliver
 was about. (Joe Eszterhas at his best.) Ari Gold passed this guy off to Lloyd a long time ago. But, I digress. Check this one out if you like sibling rivalry, pyromania and Rebecca DeMornay. Plus, it ends right before the OU game kicks off.
-Alternative: Donut Paradise (Travel Channel, 10 am to 11 am)
Searching for the most delicious deep-fried dough, from beignets to bear claws.
12 pm to 12:30 pm: Duke at Georgia Tech (ESPNU)
Homerism believes David Cutcliffe should be the runaway winner of the coach of the year award for the early part of this season. If you need evidence of Cutcliffe's coaching prowess beyond the Blue Devils' 3-1 start, check out Tennessee's offense this year.
-Alternative: Penn State at Purdue (ESPN)
This could be a tough spot for JoePa and company. Purdue is your typical boring Big Ten squad, but an early kickoff can be rough on the visitors.
12:30 pm to 4 pm: Oklahoma at Baylor (FSN)
For the first time in a long time, Baylor doesn't look like the worst team in the Big XII, given Texas A&M's implosion. With the Red River Shootout coming up next week, I'd say margin of victory here is second to avoiding injury for Sooner head coach Bob Stoops. Young quarterback Robert Griffin III has given the Bears' offense a spark, so look for Baylor to put up some points. Not nearly enough to keep this one competitive, but some.
-Alternative: Kansas at Iowa State (Versus)
See Penn State-Purdue.
4 pm to 7 pm: Texas Tech at Kansas State (ABC/ESPN GamePlan)
Some interesting match-ups in the Big XII's opening week. Mike Leach's teams typically have struggled outside the state of Texas, so he can't be happy that the Red Raiders are kicking off the Big XII season at the Little Apple. Watch to see how Tech's defense handles Josh Freeman and the Wildcats' passing attack. This is the first real test--depending on how you view Nevada--the supposedly reborn Tech D has faced in 2008.
-Alternative: Kentucky at Alabama (CBS)
This game should be a typical SEC slugfest. 'Bama has looked great so far. Has the Tide peaked?
7 pm to 10:30 pm: Texas at Colorado (FSN)
Tough game for the Longhorns heading into next week's big rivalry game. Or is it? The Buffs' loss to Florida State last week was somewhat foreseeable, but Homerism's enthusiasm for CU is waning somewhat. From what I saw of the game, Colorado looked disturbingly sloppy. No matter how good Colorado actually is, a night game in Boulder should still make for the toughest test UT has seen so far this year. Homerism's boy Kenzo will be in the house this weekend, so don't let him down, Buffs.
-Alternative: Oregon at USC (ABC/ESPN GamePlan, 8 pm)
USC needs a big win in this game to keep its national title hopes alive. How good are the Trojans?
10:30 pm to 12:30 pm: Missouri at Nebraska (ESPN)
Flip over to this Big XII North clash after Texas-Colorado (or sucks). The Huskers seem to match up well against the Tigers' high-powered offense. Joe Ganz leads a proficient Nebraska offense that may be able to exploit Mizzou's suspect defense, and head coach Bo Pelini should have a few defensive tricks up his sleeve for stopping Mizzou's spread. Throw in a riled up home crowd for a night game in Lincoln, and you could have a potent brew for an upset. Homerism doesn't see it happening, but still, you could.
-Alternative: Stick with Oregon-USC.