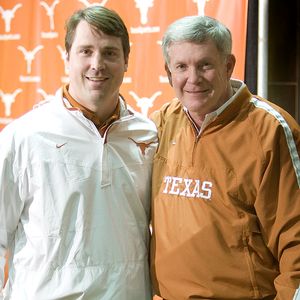 While the cult of the coordinator took a major hit yesterday when Auburn dismissed offensive coordinator Tony Franklin, it appears to be alive and well down in Austin, according to Kirk Bohls, the masterful college football writer for the American-Statesman.
Bohls offers a
far-from-stunning take
on Texas defensive coordinator Will Muschamp's hiring in the offseason: the "37-year-old whiz kid" was brought in to produce a defense that could beat Oklahoma. It's a tried-and-true blueprint for Texas head man Mack Brown, who has had success stealing a defensive architect from Auburn before. Texas' last two wins against OU came during Gene Chizik's tenure. Add in the fact that Muschamp was Nick Saban's right-hand man when LSU upset the Sooners in the 2004 Sugar Bowl, and it's easy to understand why Brown would make Muschamp the highest-paid defensive coordinator in college football.
(As an aside, is Brown doing "whatever it takes to win" when he brings in these young guns, a la George Steinbrenner? Or, is it an admission that he is overmatched against Bob Stoops?)
Bohls contends that the college football world has taken notice that Muschamp "has transformed the defense on a Texas team that Howard Schnellenberger labeled softer than Oprah's heart into a band of fire-breathing mercenaries." So far, the numbers seem to bear that out. Homerism wrote yesterday about Texas'
defensive prowess inside the red zone
, and take a look at how the UT D stacks up nationally in other key areas this season:
Pretty impressive, but what about the improvement against the pass that Bohls speaks of? 
Other than yards per game, those numbers all look decent. But what about the quality of the competition? Rice, UTEP, Arkansas, Colorado, Florida Atlantic certainly would qualify as "flimsy." And their passing statistics don't knock your socks off either, ranging from "mediocre" to "putrid."
Rice probably has the best pass offense of the Longhorns' vanquished foes, ranking 27th in pass efficiency and 34th in yards per attempt. The other Owls of that group, Florida Atlantic, rank near the bottom in pass efficiency, checking in at 107. Meanwhile, Colorado and UTEP are tied for 91st in yards per attempt. 
Granted, if UT's pass defense truly is as voracious as we're supposed to believe, that would help hold down the passing statistics of Longhorn foes. However, that's just one game for each opponent, so that effect is somewhat minimized in each case. 
When Rice is the best you've faced, your pass defense still has plenty left to prove. OU's passing game is an entirely different beast. If Muschamp actually is holding back "75 percent" of his defense scheme in preparation for this game, UT fans better hope he's about to unleash some doozies.