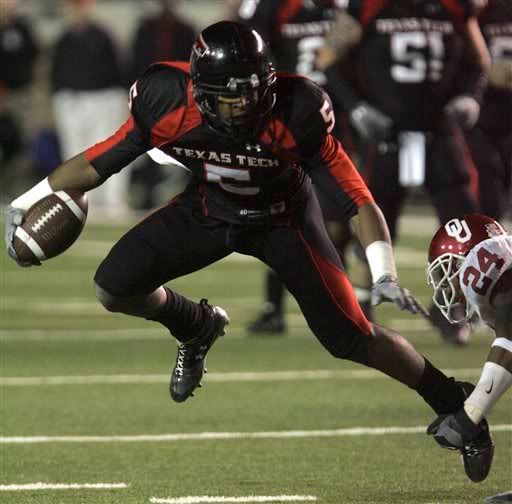 *The story leading up to tonight's OSU-Texas Tech matchup has been the stellar offensive play of both teams. Poke fan The Root made an interesting observation while discussing the game earlier this week, though. Can Texas Tech count on its kicking game to get it done? Think about how last week's big win over Texas ended. Maybe Mike Leach called for the end zone because he has no faith in a kicker who he pulled out of the stands a few weeks ago?
*Little-known fact: Jim Tressel is 1-4 coming off a bye week. Sorry, Wildcat fans. I shouldn't be trying to get your hopes up.
*All the griping about the BCS this week seems pretty self-serving to me. (This goes for you too, Bob Stoops.) If you're upset about your team dropping a couple spots in the BCS standings after a blowout win, flip the script. When your team drops the hammer on a quality opponent, don't you think your team should move up? Texas Tech beat the number one team in the nation last week. The Red Raiders deserved to jump a couple spots. If you don't like it, don't lose. (Florida could be a different story, however.)
*Alabama has made its money this season pounding foes on the ground and controlling the line of scrimmage. Good luck with that against a stellar LSU front four. Whether or not Alabama's passing game can exploit the Tigers' lackluster secondary will determine the outcome of this game. John Parker Wilson is solid, but he's no Tim Tebow or Matthew Stafford. A slugfest may actually favor the Bayou Bengals in Death Valley.
*If you stayed up late to watch Nevada-Fresno State last night, you saw the epitome of physical domination in a football game. Behind 263 yards from running back Vai Taua, Nevada chewed up nearly 500 yards on the ground, generating an even 600 yards in total offense.
*I know this isn't exactly going out on a limb, but Texas Tech WR Michael Crabtree is the best player in college football this season.