by MoMo
Style and Culture Writer, Blatant Homerism
In today's college football circus, winning ugly doesn't seem to get you very far. Sure, winning helps. But how you win is becoming as important as winning itself.
Looking back over the season, people often talked about the Big XII South division's "style points" related to margin of victory. I think we're really missing the boat here. Winning by 41 points in a conference title game doesn't matter. What should matter is how stylish the victory is. With television contracts and marketing logos everywhere, teams should capitalize on fashion and fabulousness, rather than Xs and Os.
For example, shoe brands like Nike and Adidas dominate today's cleat choices. Well, Nike certainly makes a good shoe... if you're poor. How about something a little more fashion forward?
These Prada high-top sneakers would look amazing on an OU wide receiver streaking past a slow-footed, Adidas-wearing Texas defensive back. The added Velcro strap would ensure that your laces would never come untied. (I hate tying my shoes! You can't be a runway model, or even a freestyle walker, if you are always worried about tying your shoes.)
Coaches can win style points off the field as well. In today's recruiting world, technology has brought together the old and the new. The days of just calling or writing a letter to a recruit are over. You need a slick new cell phone to really wow prospects. What better way to make a fashion statement than to call a recruit on your brand new Armani iPhone?
(
Just think how cool Mr. Hollywood, Pete Carroll, would look if he was jet setting from Cali to Bali with Armani at his side
.)
The talking heads of college football put a lot of emphasis on style points as well. When a team is blessed with the national game of the week on prime time television, the last thing you want to see is an ugly performance. The fans see it, the voters see it and the coaches see it as well. When a big game turns ugly, the BCS does not forget!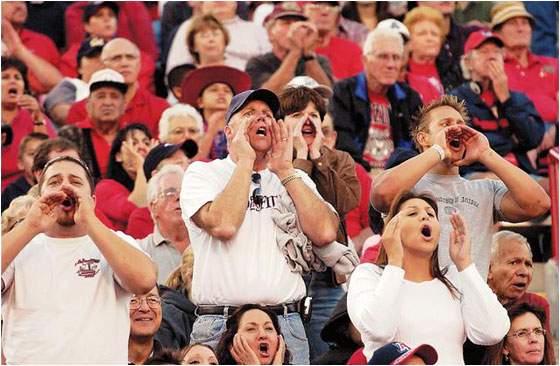 I have the perfect solution to this problem. Instead of having fat ugly people on the sidelines or in the stands, teams should load them up with models. Nothing says BCS beauty like M-O-D-E-L.
(
The Beckham's just got off their yacht and are on their way to the big game.
)
Should late loss to a top-ranked team be more deadly than an early season meltdown to a doormat, a la Alabama's loss to Florida in the SEC championship game versus Florida's early season defeat against Ole Miss? Clearly, the voters forgot the ugliness of Florida's loss. Alabama should have made the ugly people to sit in the back of the stadium and told the fat linemen on the sideline to at least have a really good tan and cool hair if they are just going to stand there and make the team look stupid.
Even the conferences emanate their own senses of style. The Big XII and the Pac-10 provide the blueprints for a trim-fit Collezioni patterned suit that gives off the vibe, "It's so easy, I don't even have to try and look good." The Big 10, on the other hand, is still stuck with the outdated classic Polo triple pleats look.
College football teams should remember that week in and week out, you have to look your best, even if you're not at your best. If you play ugly, chances are good that you are ugly. Take it from MoMo, style points count!