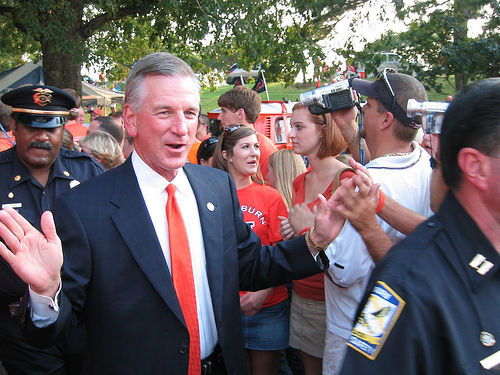 Brock had two years at West Point to put the Black Knights' house in order. Six wins in two years, coupled with bad losses to arch rival Navy, does suck. But this is Army. It's not like Glenn Davis and Doc Blanchard are walking through that door.
Brock may be the most glaring example, but consider the chatter that Texas A&M boosters wanted Mike Sherman out after his first season. Or that Kansas State bounced Ron Prince in the middle of his second year. Or the talk that Rich Rod wasn't the right man at Michigan. Or Sly Croom's resignation one year after winning SEC coach of the year honors.
Then, there's the case of ex-Auburn head man Tommy Tuberville, whose bad judgment in picking offensive coordinators apparently broke the camel's back. It's not like Auburn's influential boosters didn't put the heat to Tuberville at the first sign of slippage, though. Anyway, the deep-pocketed Tiger faithful finally rid themselves of Tuberville for the low, low price of $5 million.
Be careful what you wish for. A bird in the hand. The devil you know. Yada, yada. Sounds like the Auburn athletic department consulted with Dick Cheney on planning an exit strategy: fire first; hire later.
Have these schools learned nothing from Notre Dame? Four years ago, the Irish jettisoned Tyrone Willingham after three years, assuming Utah head coach Urban Meyer would jump at the chance to return to South Bend. After Meyer spurned ND for Florida, the Irish tried to lure pipe dreams like Jon Gruden to campus. Next, ND went through a string of humiliatingly unsuccessful attempts to bring in up-and-comers like Dan Hawkins, head coach of Boise State at the time.
That left the Irish with Charlie Weis. How has that worked out?
At least the Irish seem to have learned their lesson. Without a realistic chance of signing an attractive candidate this offseason, not to mention a hesitancy to eat a monster contract buyout, ND decided to retain Weis for at least one more year. It may not sound exciting, but consider the alternative.