The sad news Sooner Nation has expected for more than a week finally came today: Star quarterback Sam Bradford will undergo season-ending surgery on Tuesday. In April, he's off to the NFL.
I guess there is a chance Bradford could come back in 2010 if he doesn't like what he hears from the pro scouts. Supposedly, though, the shoulder injuries he has suffered this season already have cost him millions of dollars. With the way 2009 has turned out for him, it's tough to imagine we'll be seeing him in crimson and cream next season.
With the speculation about his future at OU essentially put to rest, it raises a new question about Bradford: Where does he rank in the pantheon of all-time Sooner greats?
As one of college football's elite programs, a long line of signal callers merit consideration for the title of Oklahoma's best ever.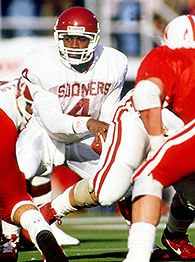 Under wishbone savant Barry Switzer, OU quarterbacks were best known more for their ability to orchestrate the option than their passing skills. Steve Davis directed Oklahoma's ground attack to back-to-back national championships in 1974 and 1975. In 1985, the dynamic Jamelle Holieway became the first true freshman to quarterback a national title team.
Heisman Trophy runner-up Josh Heupel helped coach Bob Stoops usher in the 21st century in Norman, keying a wide-open passing offense in another national title run in 2000. Jason White won the 2003 Heisman while leading the Sooners to back-to-back BCS title games.
All were great, but I'll take Slingin' Sam any day of the week and twice on Sunday. (As a quarterback-needy team should do in next year's NFL draft.)
Like Heupel and White, Bradford followed an unlikely path to Sooner stardom, which actually started before he ever enrolled at OU.
In 2005, all-world prospect Rhett Bomar, a redshirt freshman, was putting together a promising season as the Sooners' QB. Meanwhile, Bradford, a lifelong OU fan whose dad played for the Sooners in the 1970s, was a senior starring in three sports at Putnam City North High School in Oklahoma City.
Bomar was considered a surefire four-year starter, assuming he didn't bolt for the pros early. Bradford was considered an afterthought in OU's recruiting class.
Of course, after being thrown off the team on the eve of the 2006 season, Bomar's bright future at OU never came to pass. Bradford redshirted in 2006, won the quarterback job in the 2007 preseason, and proceeded to have arguably the best back-to-back statistical seasons in college football history.
| | | | | | |
| --- | --- | --- | --- | --- | --- |
| Year | Completion % | Yards | TDs | INTs | Passer Rating |
| 2007 | 69.5 | 3,121 | 36 | 8 | 176.5 |
| 2008 | 68.3 | 4,464 | 48 | 6 | 186.3 |
Along the way, he won a Heisman Trophy in 2008 and became the first quarterback in Big 12 history to lead his team to consecutive conference titles.
Bradford also has acted as an outstanding ambassador for Sooner football. He is beloved by his teammates, past and present. He has embraced his heritage and become a revered figure in the Native American community. He has excelled in the classroom. This year, OU's team has missed Bradford's steadying presence on the field as much as his talents as a quarterback.
Enjoy the NFL, Sam. For my money, you're the best quarterback OU has ever had.