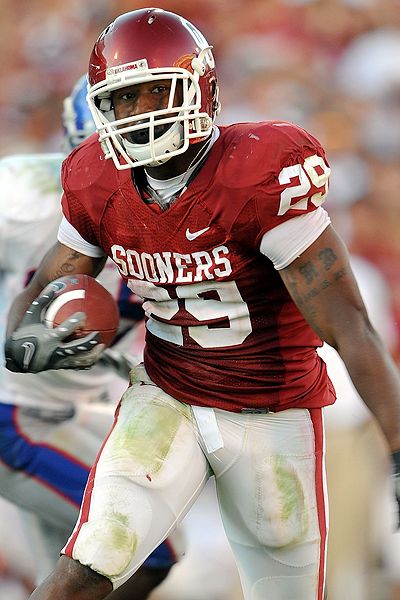 By Bryan Waters
Oklahoma Sooners Examiners
Sooner football fans have passed through a series of emotions this season.
On Saturday, Sooner Nation was feeling a whole bunch of relief following No. 25 Oklahoma's 35-13 victory over No. 24 Kansas in Lawrence.
While Sooner admirers wondered what injury might befall their team again, the game was a compendium of plays Sooners fans had hoped to see. The win was material cut from a familiar fabric–mature, workmanlike, practical.
Oklahoma scored the first two touchdowns and Kansas never stood a chance.
An early interception. A running touchdown, despite requiring five snaps inside the two-yard line. Another interception. And another, this one a pick-six that put OU up 14-0.
The return of Adron Tennell's hands and his ability to break away for extra yardage, which never left him. No penalties in the first half. Only two turnovers, one on a Cameron Kenney pass deflection that got him benched. The other by a rookie running back making a rookie mistake.
A new place kicker, Tress Way, because, well, new backup Jimmy Stevens never gave OU fans any reason to be confident.
Sacks. Tipped passes. A second week of heavy pressure against an accomplished quarterback. More Jeremy Beal. More Gerald McCoy. A little Adrian Taylor thrown in. Blanket coverage by cornerbacks Dominique Franks and Brian Jackson. Head hunting by Quinton Carter. New, rather inexperienced guys getting valuable playing time, not just taking up space, but making plays as well.
Ryan Broyles getting into open space. Landry Jones being on target with most throws and knowing when to throw it away. Enough running by Chris Brown to open up the pass.
Like the Sooners of old.
Ah, the relief.
"I'm just really proud of our football team," said Oklahoma coach Bob Stoops. "The way they played against a very good Kansas team that's been playing well. I really respect what (KU coach) Mark Mangino and his staff have done here over the last several years. They haven't lost many games here, so I'm proud of our guys to come here and play so well and have a great performance overall."
As would be expected, Stoops saved his strongest praise for the Sooner D
"I thought defensively, we were just really special–outstanding in how we played. Brian Jackson had a huge game going nose-to-nose against Dezmon Briscoe. He's a great receiver and did a great job. We came up with big turnovers, pressure and sacks," he said. "We've been in some tough situations where our defense got us out of it."
Stoops was less effusive about his offense's performance, but it was good enough.
"Offensively, we struggled a little bit in the first half, but really came together in the third quarter with the wind and made some really big plays and had some good drives, which put the game in a good position to leave it up to the defense. So, overall it was a good game."
The victory won't create much hullabaloo outside Sooner Nation. That doesn't make it any less comforting inside it.
Bryan Waters writes for the Oklahoma Sooners Examiner. Click here for more of his articles on Sooner football.