Wow, we're already to week 10 of the 2009 college football. It seems like just yesterday that LaGarrette Blount was sucker-punching some jive-talkin' Boise State Bronco and Homerism spent a whole evening crying just outside JerryWorld.
As Natalie Merchant so beautifully reminded us, these are the days.
WEEK 10--The Skinny
(Last Week: 2-4; Overall: 25-29)
The downside to writing this column every week is that my picks are made public. (This can be a good thing; just not this season.) I will be the first to admit I am probably not worthy of picking games on Bloguin's No. 2 college sports blog.
This is where nepotism has its advantages. Most people with picks this terrible would probably be fired, but, alas, Homerism is my brother. Thus I just get to keep on sucking away with my picks.
Not surprisingly, I was dangerously close to picking USC last weekend. I picked another loser instead, but I found the USC-Oregon game very interesting. For the first time in Pete Carroll's remarkable run at USC, the Trojans didn't just lose. They were dominated by Oregon. Sure, USC has had some bad losses, such as Stanford in 2007 and Washington this year. However, the Trojans have never been thoroughly worked over like they were in Autzen stadium last week.
Personally, I think the game is an indicator of what lies ahead for the Trojans. No, I am not predicting the demise of the program. But what is happening to USC seems to happen to all dynasties at some point: they become victims of their success. Coaches are hired away, players leave early for the NFL, some transfer for more playing time, recruiting slips a bit, injuries set in, and you can't overcome bad breaks in the way you once could.
USC will still be the class of the Pac-10, and Southern Cal will figure into the national championship picture most years. But don't the dominance we saw in the mid-2000s. Carroll will probably have to start taking an occasional four-star recruit. The Trojans will probably lose to ND and UCLA a time or two. They might see an occasional 9-3 season. It is a pattern we see over and over with dynasties in college football. Enjoy it now, Florida, because you're next.
*Speaking of Florida, I find it ironic that Brandon Spikes, who accused OU of "playing dirty" in the championship game last season, was suspended for gouging a Georgia player in the eye. That's the ultimate cheap shot in football, behind the nut shot, of course, but even Spikes won't go that low.
Yet, Urban Meyer, the University of Florida and the SEC conference decided to suspend Spikes for all of one half?! Players get tossed for a season because they partied with Deion Sanders, and this gets a half? I know the NCAA isn't handing down this penalty, but one would think this is a matter they actually should be adjudicating.
Personally, I think Meyer gave Spikes the light penalty, so he could come out and say, "No, that isn't enough. I need a harsher punishment." The media applauds Spikes for the mature decision, and he comes out looking good. (Sorry for the rant!)
It is going to be an abbreviated version of my picks this week. The markets don't stop for Skin's picks and it has been a busy week. Selling pork bellies, derivatives, covered calls, IPOs, your standard arbitrage play, micro lending in Tunisia... It doesn't leave much time for handicapping.
Advice of the Week: Great to have the WNBA in T-Town. Watch out Phoenix Mercury, the Tulsa ???? are on the rise!
LSU (+7.5) at Alabama
I love this pick. In the words of Aerosmith, Alabama has been "livin' on the edge" lately. ( Homerism and I once spent a day at a spa with Aerosmith's Steven Tyler and his European-style "bathing suite." No joke)
And as Elvis once sang, Alabama "can't help itself from falling" this weekend. The Crimson Tide offense is a one-man show with Mark Ingram. LSU has one of the better defenses in the country, and the Tigers will shut down 'Bama this weekend. LSU's offense is no juggernaut, and, in fact, it was pretty bad earlier this season. Alabama's defense is pretty stout in its own right, but the Tigers' offense has been better lately, albeit against lesser competition. Maybe that will give LSU the spark it needs this week.
The good news is the Tigers don't need to put up a lot of points. Seventeen will probably win the game.
The Skin says: I really like LSU this week.
Oregon at Stanford (+7)
I rarely ever look at the opinions of "gambling experts," let alone base a pick on their predictions. I am proud to say I rely solely on my own opinions. But my opinions haven't meant jack this season, so I will follow the crowd on this one.
It seems everyone in the know this week is picking Stanford with the points. Many think Oregon is in for a letdown game having read their press clippings all week. Stanford has a strong running game and will be able to chew up the clock, leaving the Ducks' explosive offense on the sideline. Palo Alto isn't exactly an imposing atmosphere, but, historically, Oregon has played much tougher in Autzen Stadium.
The Skinny says: I will take Stanford to cover the seven.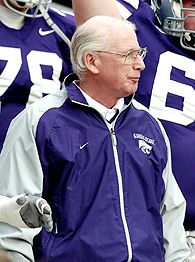 Kansas at Kansas State (+3)

This is my lock of the year. These two teams have been Oklahoma's opponent the past two weekends, and it is obvious to me K-State will win this game.
These two teams are going in opposite directions. Kansas is really struggling right now, having lost three straight after feeding Mangino's sizable gut with cupcakes earlier in the season. (I know, "Why all Mangino jokes?" They're just too easy.)
In true Bill Snyder fashion, K-State is tough and disciplined. He has K-State playing better than anyone in the Big 12 North. Snyder installed a version of the Wildcat offense in recent weeks, and as OU can attest, it is tough to stop.
It is always dangerous when you are playing a team that views you as its biggest rival if that team isn't your main rival as well–for Kansas it's Missouri. Kansas St. will want this one more, and the farmers in Manhattan will be fired up.
Skin says: If you don't listen to any of my advice this entire year, I don't blame you. Trust me and lock up K-State.
Virginia at Miami, Fla. (-13.5)
I can't figure UVa. The Cavaliers lose to bad teams, then they beat a bad team, then they lose to another bad team. I don't know what that amounts to, other than, win or lose, UVA is bad. Randy Shannon is doing a nice job at the Miami, and he will make The U relevant on the national stage in years to come. This year, the 'Canes are a nice team, but I just can't get that excited about them.
The Skin says: Fortunately, Miami doesn't need to be that good to be UVA by 14.
The Coin Flip Game: Navy at Notre Dame (-12.5)
OK, so the coin has to win this week. I'm not that smart, but shouldn't I have close to 50-50 chance with this strategy?
The coin picks Navy this week, and, personally, I like it. ND could just as easily be 2-6 this year as 6-2, and all of the sudden, ND's weak schedule this season looks especially weak.
Navy's defense is no match for the Irish offense, but I think the Midshipmen will play ball-control offense against ND's defense and keep the ball out of Clausen's hands.
The Skinny says: I will take Navy with the points.
Lee Greenwood Special: Army at Air Force (-16.5)
Since the coin took Navy and Air Force and Army play each other this week, I have no choice but to pick this game for the LGS. Army seems to be improved this season, despite its 3-5 record. Air Force (5-4) has been a bit inconsistent this season. The Falcons play better at home, where they nearly beat TCU a month ago. (I can't believe I am counting TCU as a big moral victory.) I think this line is about right.
Skinny says: I will take Army plus 17 points. The Black Knights will be playing for pride against a fellow service academy, and as we all know, "these colors don't run from a fight."
WEEK 10--Blatant Homerism
(Last Week: 2-4; Overall: 27-27)
Check out Kissing Suzy Kolber's deconstruction of Bill Simmons' gambling column from last week for a nice example of why a handicapper should maintain a healthy sense of humility.
Oregon (-7) at Stanford
I know the angle here. Hell, I wrote about it back in May. Stanford is playing at home after a week off and needs just one more win to qualify for a bowl. The Ducks are coming off a thrashing of USC last week, which raises the possibility of a letdown. So the circumstances surrounding this game do give me pause.
Stanford's wins this year: at Washington State, San Jose State, Washington, UCLA, Arizona State. Stanford's losses: at Wake Forest, at Oregon State, at Arizona.
See any surprises there? No? Me neither. And that's the point. This year, the Cardinal beats the teams it should and loses the games it should. Jim Harbaugh's team is exactly what it should be.
Is that a team that can play the hottest squad in the country within a touchdown? Homerism would give that one an unequivocal "no."
Homerism says: I'm going with the white-hot Ducks this week.
TCU at San Diego State (+24.5)
The only team that may be Oregon's equal on the heat scale at the moment is TCU. The Horned Frogs have won their last three games by an average of five touchdowns and have a legitimate argument that they deserve a spot in the national championship game should they finish the season undefeated. Their biggest remaining challenge comes next week, when they host Utah, the only team to beat TCU last season.
For now, though, there's the matter of getting this trip to San Diego out of the way. I don't see Gary Patterson being too concerned with pouring it on the Aztecs. Additionally, even though Patterson may be the best coach in the country pound for pound, even he can't prevent inevitable look-aheads.
Homerism says: TCU, 23-0.
Houston at Tulsa (+1)
This game easily wins the award for strangest line of the year. Off the top of my head, I'd say the Cougars should be about a touchdown favorite, at least. Houston has one of the best offenses in the country, and Tulsa has been a huge disappointment, losing to freakin' SMU at home last week–and losing badly at that, 27-13.
Imagine my surprise when it opened with UH laying three. The movement this week has been even stranger, with the spread bouncing back and forth between the Cougs by three and the 'Cane by three all week. Does Vegas know something we don't?
So I consulted other sources to see what kind of angles they came up with. Our buddy Blue Horseshoe of Accuscore made Houston his "shoe-in of the year." Phil Steele, on the other hand, says Tulsa wins easily.
I've looked this game up and down, backwards and forwards. I've developed something of a theory here. It involves the intersection of a number of factors.
1. Tulsa is a hot mess right now that has yet to hit its stride.
2. Houston laid a vicious beating on a proud TU team last season, 70-30.
3. The Cougs' run defense is abysmal.
4. And from way off the radar: The Golden Hurricane plays great football in night games at Skelly Stadium.
The fourth one is the real kicker for me. In the last two years, the 'Cane is a gaudy 6-0 against the spread playing at home after dark. Stretch the timeframe to three years, and TU has gone 8-3. The only outright losses came at the hands of Oklahoma and Boise State.
What better time for this underachieving Tulsa team to get right than with a big revenge win in a home night game? Look for TU to ride its hot-and-cold run game to a win.
Homerism says: Watch out for some Cougars out on Brookside after the game in search of someone to lick their wounds. You might even see some Houston players, too.

Washington State at Arizona (-32)
How was that trip to San Antonio, Cougs?
While you were out checking out the Riverwalk and the Alamo, Arizona was sitting on its duff at home. The Wildcats might have even had a chance to take in a little trick-or-treating during the bye last Saturday.
Wazzu, prepapre for your third road pounding in a row.
Homerism says: 'Zona big. However, to be on the safe side, play the first half and the game.
Virginia at Miami, Fla. (-13.5)
If I was a Virginia fan–and I'm certainly not–I'd be hoping this game ends up constituting another step in the painfully long journey that is the Al Groh Death March. This team stinks, and the likelihood that Jameel Sewell won't be playing makes it that much worse.
Look for Miami to get its high-octane passing game just often enough to get the cover in what will be a brutally boring game.
Homerism says: The U, 22-6.
LGS: Army at Air Force (-16.5)
I'm avoiding Navy-Notre Dame this week because of the uncertainty surrounding personnel on both sides–receiver Michael Floyd for Notre Dame and option quarterback Ricky Dobbs at Navy.
With the long road trip from West Point to Colorado Springs for Army, I'm taking the home team. That's about the best I can offer at the moment.
Homerism says: Fly, Falcons, fly.