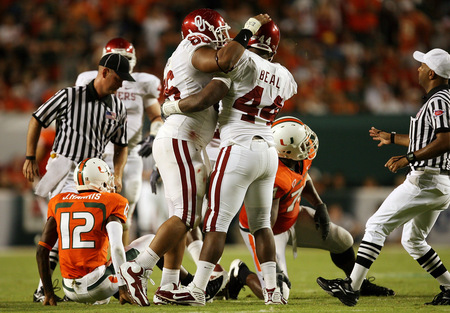 Curses be damned, Jeremy Beal, Ryan Broyles, Travis Lewis and DeMarco Murray want one more year as Sooners.
They aren't getting quite the same fanfare that the ill-fated "Big Four" of Sam Bradford, Jermaine Gresham, Gerald McCoy and Trent Williams received a year ago, but today's lack of news regarding Oklahoma underclassmen declaring for the NFL draft is still a big deal.
(I'm assuming that Lewis and Broyles are staying, as no announcement was made regarding their intentions.)
First, it suggests that the unfortunate injuries suffered by Bradford and Gresham won't scare OU players into jumping to the show before they think they're ready. Bradford may still feel like he made the right call. Yet, it would be tough to blame a prospect who looked at the Heisman Trophy winner's disappointing final season and decide it was time to get paid.
I'm all for guys getting it while it's good, but I'm not sure Beal, Broyles, Lewis and Murray are actually ready.
From a fan's standpoint, I'm excited that the Sooners aren't going to be trying to replace their top receiver, defensive end, linebacker and running back in 2010. That would have been in addition to both starting cornerbacks and defensive tackles from 2009.
*In another piece of interesting news, OU's defensive ends coach Chris Wilson appears to have accepted an offer to become Mississippi State's co-defensive coordinator. The hot name circulating to replace Wilson: Jim Jeffcoat.
Jeffcoat currently coaches defensive ends at the University of Houston, and word is Bob Stoops thinks pretty highly of the ex-Dallas Cowboy. An interesting twist to the rumor, though, is that Jeffcoat's son Jackson, also a defensive end, happens to be one of the top high school recruits in the country. (Jackson's twin sister, Jacqueline, already has accepted a basketball scholarship to OU.)
Before all the haters get their jockstraps in a wad, you can be sure that if Stoops offers a position to the elder Jeffcoat, it won't be conditional on his son becoming a Sooner. In fact, it could work against Oklahoma in the long run. While Houston is thought to be in the running for Jackson's services, the consensus among recruiting gurus is that the Cougars have little shot at landing him. Playing for your dad isn't always that cool.