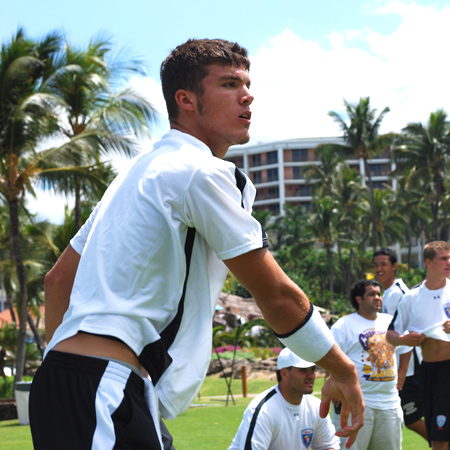 Nothing gets college football fans as revved up in the offseason as a ballyhooed quarterback recruit. Oklahoma Sooners 2010 signee Blake Bell is one of those guys.
Recruiting services Scout, Rivals and ESPN ranked Bell between third and sixth among prep quarterbacks. That makes him the best quarterback prospect recruit OU has brought in since Rhett Bomar. Bell has all the attributes for a quarterback that scouts and fans drool over: 6-6, 215 lbs, athletic, mobile, strong arm.
After watching rising sophomore Landry Jones work through his ups and downs in 2009, Bell's arrival has plenty of OU fans wondering if he can give the incumbent a run for his money this year.
Um, no.
From a purely practical standpoint, Bell won't have adequate time to prepare. He didn't enroll early to be on campus for spring drills. Consequently, he'll have just a few weeks of real practice in the fall to learn the Sooners' offense.
Also, based on his track record, Sooner coach Bob Stoops is about as likely to start a true freshman under center as I am to spend Super Bowl Sunday watching a marathon of Say Yes to the Dress. Past quarterback derbies have shown how much Stoops values the experience that comes with time on the sidelines:
Stoops has pretty good reason to question the wisdom of starting a first-year signal caller. True freshmen who have had notable success as starting quarterbacks have proved to be the rare exception to the rule. Look at USC's struggles while Matt Barkley, one of the best QB prospects in recent memory, learned on the job last year.
Longer term, would it help Bell's development to play right away? Maybe. But, for OU, 2010 isn't about Blake Bell.
With Texas' personnel losses, OU should be right back in the mix for the Big 12 crown. If things break right, the Sooners have the kind of strong non-conference schedule that could put them in the national championship game. Bottom line: It's not a rebuilding year.
The 'Stache didn't exactly bowl anyone over this past season, so the doubters are right to wonder if he can lead OU to the heights Sooner Nation has come to expect. However, Oklahoma suffered through such a calamitous 2009 that it's too soon to say he can't cut it. Even with all the tough breaks, the Sooners did manage to win eight games with Jones taking the vast majority of snaps.
Bell may be the future for OU, but Jones will be the now.