*Lock up your sons, folks, Mack's in town!
Texas Longhorns head coach Mack Brown has his recruits dropping their drawers like Zac Efron's prom date -- or something like that -- according to professional UT fan Geoff Ketchum.
In his weekly column on Orangebloods.com, Ketchum speculates that the Lone Star State's top players are all sitting by the phone at night hoping Mack will take them to the prom and not show up plastered -- or something like that. (You'll have to scroll way, way down to No. 2: "Mack Brown is so good right now that it's scary?" This headline is not meant to be a question, I think?)
From what I can tell, this is actually supposed to be some kind of tortured literary device to describe UT's outstanding recruiting record as of late. I really haven't given it much thought, though, as I'm having so much fun picturing Mack in a tux strolling into Southlake Carroll's gym like Freddie Prinze Jr.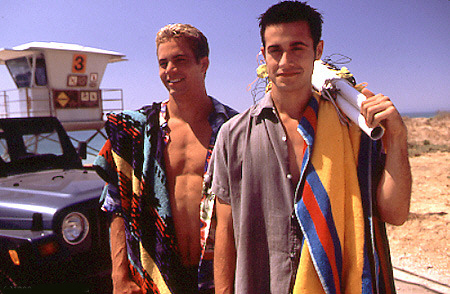 *Image is everything.
I put together this slideshow for Bleacher Report ranking the 10 programs that have taken the biggest PR hits recently. Obviously, any list like this that touches on cheating and off-the-field scandals generates plenty of bitching from fans who feel like their teams have been smeared. Note that the operative word here is "image."
*Canzano-Kelly
On a related note, if you haven't heard Oregon coach Chip Kelly's recent interview with John Canzano on the Oregonian columnist's radio show, it's pretty compelling
*Yes, the St. Louis Rams are that bad.
Blogger Jeff Roman takes me to task for my characterization of the St. Louis Rams when I lamented the rumors that Sam Bradford would be taken first overall in the upcoming NFL draft.
Roman points out that while the Rams don't have any receivers of note, they do have an elite running back in Steven Jackson. I actually mentioned this in the original post.
Roman also takes umbrage with my comparison of the Bradford-Rams scenario to David Carr with the Texans and Tim Couch with the Browns. Yes, St. Louis technically is not an expansion team. Looking at the overall talent level on that team, though, I don't see much difference. Judging by their record the last three years, the Rams have certainly played like an expansion franchise.
Finally, Roman contends that St. Louis' offensive line is in better shape than either of the aforementioned expansion teams' lines were when they drafted their rookie signal callers, noting that the Rams line had a lower sack percentage. Good point.
However, rookie QBs almost always mention that the biggest transition from college to the pros is adjusting to the "speed of the game." The Rams played veterans Marc Bulger and Kyle Boller at quarterback last year. How much of the difference in sack percentage that Roman mentions is attributable to the fact that the Texans and Browns had first-year guys under center?