Here's a reality-bending, time-shifting scenario for college football fans that would put Damon Lindelof and Carlton Cuse to shame:
Two college football teams play for the national championship. One wins convincingly. Six years later, it turns out that the team that won didn't actually win, even though it didn't actually lose. But the team that lost still lost.
Seeing as the omniscient powers that be are fiddling with the time-space continuum, some want them to further alter history so that a mysterious third team that didn't actually play in the game can have the championship.
Sounds about as far-fetched as a TV show about dozens of people surviving a jetliner crash in the middle of the Pacific Ocean. (And washing up on a haunted island. Where people can live for hundreds of years without getting old. But women die from getting pregnant. When they're not traveling through time.)
Yet, we could be days away from all hell breaking loose in the alternate reality of college football. With USC potentially facing major sanctions from the NCAA, the Trojans' 2004 national title could be in serious jeopardy. Which leads us to the ultimate question:
If Southern Cal is stripped of its championship, how should we re-write 2004's ending?
(Note that BCS policy in such cases is unclear.)
As a fan of the Oklahoma Sooners, I'd love to see another national championship sign hanging at Owen Field. Still, we all know that whatever happened, happened. Having witnessed the Trojans' 55-19 dismantling of OU in the 2005 Orange Bowl, it seems ludicrous to argue that the Sooners deserve to be called the champs.
SEC-centric blogger Clay Travis, on the other hand, is proposing a solution that seems to have more traction among the public at large. His script concludes with the Associated Press earning some redemption by bestowing its crown on the Auburn Tigers. Thus, the cosmic injustice that left the winner of the sport's premier league on the outside of Pro Player Stadium looking in would be corrected.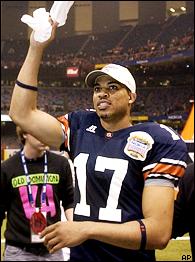 The clip show version of Travis' argument: Auburn finished the 2004 season with a 13-0 record and ranked No. 2 in the final BCS and AP polls. The Tigers' low start in the polls eventually killed its chances of playing for the title. The SEC has been so self-evidently awesome during the BCS era -- particularly in recent years -- that we now know Auburn got screwed by the system. There's even precedent, as the AP went its own way in 2003.
It makes for a happily-ever-after ending for the Tigers. Unfortunately for Auburn, it doesn't work in the real world.
First, we can speculate all we want about what might have happened under a different set of circumstances in 2004, but it's just speculation. Keep in mind that Oklahoma wasn't exposed until the Sooners actually played USC.
Also, while no one should dispute the idea that the SEC rules college football, does it really make sense to reward teams for a conference's past -- and, in this case, future -- accomplishments? History may inform our assessment of teams, but we've seen far too often just how fallible those preconceptions can be. Isn't that one of the biggest problems with the BCS now?
Most importantly, let's not forget the biggest flaws in Auburn's 2004 resume: Louisiana-Monroe, Louisiana Tech and The Citadel.
The Tigers played a non-conference slate that would make Bill Snyder blush. When all was said and done, Jeff Sagarin rated Auburn's strength of schedule 60th in the country in 2004. In that respect, not much separates Auburn from Utah, which also went undefeated and had an SOS ranking of 67.
With that kind of schedule, it's tough to argue that Auburn suffered a fate in 2004 that it didn't deserve.
If USC's national championship is taken away, the best outcome is a vacant title. Fans' desire for resolution is understandable, but a champion without merit is worse than no champion at all.
As Lost-heads learned during the last six years, some questions just don't have answers.