Look-Ahead Factor: Some
Letdown Factor: Zip
Kerouac Factor: Big big big
Motivation Factor: Oh yeah
Oklahoma held a 9-1 edge on the Texas A&M Aggies in the 2000s. Yet, for a series that was awfully one-sided, the two teams sure produced some memorable games.
2000: On the way to a national championship, Oklahoma stages a furious comeback in the second half to end an Aggies upset bid. Torrance Marshall's late pick-six seals OU's win.
2002: A&M knocks off top-ranked Oklahoma at College Station, effectively ending the Sooners' national championship dreams.
2003: 77-0.
2004: The resourceful Aggies put a serious scare into an Oklahoma team that would eventually play USC in the Orange Bowl for the national championship. A late touchdown pass from Heisman-winning quarterback Jason White to Mark Bradley does A&M in.
2006: The fans at Kyle Field witness an ugly, bare-knuckles brawl between the Sooners and Aggies, with coaches Bob Stoops and Dennis "VIP Connection" Franchione effectively mothballing their passing games. OU wins despite QB Paul Thompson completing just three of 12 throws for 39 yards. A bold fourth-down gamble by Stoops inside his team's own 30 late in the game puts the 17-16 victory on ice for OU.
OU has won the last three in the series and has beaten A&M in pretty unforgiving fashion. The average final score: 58-17.
A&M has had its fair share of struggles in the aftermath of Franchione's tumultuous tenure, but this is supposed to be the year when the Aggies take off under coach Mike Sherman. A&M boasts arguably the best quarterback in the Big 12, Jerrod Johnson, a dual threat in the mold of mobile passers who have given OU trouble in the past. Johnson also has a talented group of receivers to go along with speedy running back Christine Michael. All in all, the Aggies have the makings of a very dangerous team in 2010.
Even though the Aggies' home dominance has slipped some in the last few years, Kyle Field still has the mystique that has traditionally made it one of the most intimidating places to play in all of college football. Coming off last season's 65-10 woodshedding in Norman, you can bet Sherman and his team will be ready for revenge when Oklahoma comes to town this fall.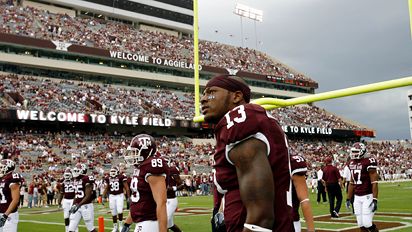 Conversely, Bob Stoops may have a hard time keeping his team focused, as it has its own payback game with Texas Tech coming a week later. Having waxed the Aggies in '09, the potential for a look-ahead is big.
The 2010 game between the Sooners and Aggies has the makings of yet another wild affair. If OU isn't on its toes on Nov. 6, it could make for a major blow to what looks like a promising season for the Sooners.