"Andrew Luck."
The name alone sounds like the stuff of legends. Factor in that he's a star quarterback at Stanford of all places and that he has the makings of a first round NFL draft pick – the guy sounds more myth than man.
Unfortunately for Cardinal opponents in 2009, he was all too real.
Charismatic Stanford coach Jim Harbaugh used the combination of Luck's passing and Toby Gerhart's running to build one of the top offenses in college football last season. Gerhart pounded away at opposing defenses an average of 26 times per game, finishing '09 with 1,900 yards rushing, 28 touchdowns and second place in the Heisman Trophy voting. And when teams zoned in on Gerhart, Luck was waiting to jump all over them with play-action and an opportunistic passing game.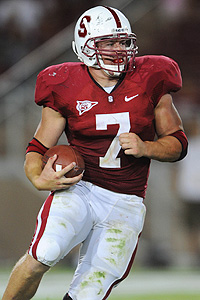 The air-ground duo formed the backbone of an attack that finished first in the Pac-10 in total offense. Behind that high-octane offense, the Cardinal enjoyed its best season in recent memory.
Under perfect conditions last year, Luck looked like he had all the skills that the pro scouts love – strength, accuracy, mobility and intelligence. This year, however, he'll face some strong headwinds that should prove whether he is a No. 1 pick kind of player.
Now, however, Gerhart has moved from Northern California to the Great White North. Taking his place as Stanford's go-to back will be sophomore Stepfan Taylor. Taylor has talent, but he's cut from a different cloth than Gerhart, one that isn't quite as tough between the tackles.
What does that mean for Luck? Well, far fewer of those eight-man fronts he saw last season, for starters. Defenses will be less likely to bite on run fakes in play-action situations as well. Defensive coordinators will blitz Luck more often; he's going to take more hits in the process.
Most importantly, though, Gerhart's departure means Luck is the man in Palo Alto now.
Harbaugh will start to build his game plans around his quarterback. Stanford ran 63 percent of the time in '09, so that will change. Opponents will game plan specifically to stop Luck and Stanford's aerial attack.
For the Cardinal to have any hope of matching last season's success, in other words, Luck will have to carry the load, rather than ride on Gerhart's broad shoulders.