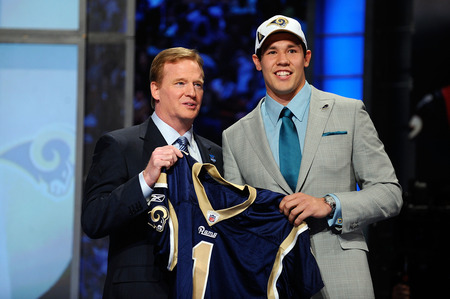 Remember when NFL-caliber offensive talent ruled the Big 12? Guys like Sam Bradford and Colt McCoy and Michael Crabtree were smashing offensive records left and right in college before graduating on to the big leagues.
Those days are over. In 2009, the conference was home to three of the top 10 defenses in the nation. This year should be no different, as teams such as Nebraska and Texas field some of the strongest D you'll find in college football.
So, not surprisingly, the Big 12's top 12 pro prospects mainly reside on the defensive side of the ball this year.
1. Aaron Williams, CB, Texas
6-1, 190 pounds
Junior
Williams may be best known for end Heisman-winning Oklahoma quarterback Sam Bradford's college career at last year's Red River Shootout. The Longhorns' athletic defensive back is no "one-hit" wonder, though.
Following his first full season as a starter in 2009, the cornerback out of Round Rock, Texas, is more than ready to take over as the cornerstone of coordinator Will Muschamp's aggressive defense. Williams' physicality not only makes him a lock-down cover man, but a great asset in run support and blitz packages.
Expect Williams to compete with LSU's Patrick Peterson to be the first defensive back off the board in April 2011.
Projection: First half of first round.
2. Prince Amukamara, CB, Nebraska
6-1, 205 pounds
Senior
In almost any other year, Amukamara would be considered the best corner in not only the Big 12, but the entire country.
Amukamara excelled in 2009 under head coach Bo Pelini's tutelage, picking off five passes on the year and breaking up another 11. He turned down the chance to go to the NFL for another year studying under Pelini and will be the better for it.
Projection: First round.
3. Travis Lewis, LB, Oklahoma
6-2, 230 pounds
Junior
Lewis has proven himself to be a tackling machine in his two years as the starting weakside linebacker in OU's defense.
He racked up 144 stops in 2008 on his way to being named Big 12 freshman of the year and another 109 last year. Yet, despite winning first-team all-conference honors, Lewis appeared to take a step back in 2009. A few opponents exploited Lewis in pass coverage, while he showed occasional lapses in run support.
Having redshirted in 2007, Lewis had Sooner Nation fearing he'd take off for the NFL last year. Defensive coordinator Brent Venables coaxed him into returning for one more season in Norman, though, and Lewis has rededicated himself this offseason to stepping up his game. Although Lewis lacks the ideal size to play linebacker in the NFL, he can solidify a first-round grade by returning to form in 2010.
Projection: Early second round.
4. Jared Crick, DT, Nebraska
6-6, 285 pounds
Junior
Crick, a local boy made good, owns the hearts of Cornhusker fans. In the eyes of pro scouts, he probably still has something to prove.
Crick and the beastly Ndamukong Suh formed the nation's best tandem at defensive tackle last season. With Suh now playing on Sundays, Crick has to show that he can still dominate without a partner in crime drawing double teams on the line of scrimmage.
Even if Crick continues to perform at a high level this season, don't be shocked if he puts the NFL off for one more year.
Projection: Early second round.
5. Ryan Broyles, WR, Oklahoma
5-11, 180 pounds
Junior
Broyles was a revelation in 2008, bursting onto the scene at OU as a big-play threat. Last year, he proved to be more than just a complementary player, turning into one of the top wide receivers in nation.
With OU struggling to find consistency from its receiving corps in 2009, Broyles often provided the only reliable option in the Sooners' passing game. Even with opposing defenses keying on him, the third-year sophomore still managed to catch seven balls per game and finish tied for second in the country with 15 touchdown grabs.
Broyles has made his bones working primarily out of the slot the last two years, so NFL scouts will want to see what he can do when lined up on the outside. The Sooners' green pass catchers seem to be growing up, though, which means offensive coordinator Kevin Wilson should be able to move Broyles around this year.
A 2010 on par with 2009 would likely elevate Broyles into a first-round player.
Projection: Second round.
6. Von Miller, DE/LB, Texas A&M
6-3, 240 pounds
Senior
Miller has one responsibility: Get after the quarterback. In 2009, he led the nation in sacks with 17.
It was the lone bright spot for an otherwise dreadful A&M defense.
Miller may be a one-trick pony, but he plays that one note awfully well. He's reminiscent of Sergio Kindle, Texas' departed disruptor, although probably a little less athletic.
Projection: Second round.
7. Jeremy Beal, DE, Oklahoma
6-3, 260 pounds
Senior
You won't find many college defensive ends more dependable -- or productive -- than Beal.
In 2009, Beal's total sacks increased to 11 from 8.5 the year before. He saw his tackles and tackles for loss grow as well between from '08 to '09.
Note that his increases in production in 2009 came while playing one fewer game than the year before.
In the upcoming season, Beal faces a similar situation as Crick. Without standout defensive tackle Gerald McCoy occupying so much attention from opponents, Beal will have to prove to scouts that he wasn't just the beneficiary of playing with a dominating presence on the interior.
Projection: Second round.
8. Daniel Thomas, RB, Kansas State
6-2, 228 pounds
Senior
The Big 12's offensive newcomer of the year in 2009 led the conference in rushing with 1,265 yards.
A tough runner with good size and decent speed, Thomas will be the focal point of the Wildcat offense in 2010. As legendary coach Bill Snyder looks to lead KSU back to respectability, expect his star running back to see the rock early and often.
Thomas probably isn't in the class of elite runners who turn into high draft picks. However, he could be a solid back in the NFL.
Projection: Second round.
9. DeMarco Murray, RB, Oklahoma
6-1, 214 pounds
Senior
When he first arrived at Oklahoma in 2006, there was talk that Murray could be the next Adrian Peterson.
He certainly had the look of an elite prospect as a redshirt freshman in 2007, when he rushed for an average of 6.0 yards per attempt.
Unfortunately, injuries have marred Murray's career at OU. In 2009, he appeared to have lost some of the explosiveness that once made him such an intriguing prospect.
Despite being less of a home run threat, Murray has developed a diverse complement of skills as a running back. For one thing, he's tougher between the tackles. Additionally, Murray has turned into a dangerous receiving threat, whether coming out of the backfield or lining up at receiver. Last year, he caught 41 passes for 522 yards and four touchdowns.
Murray currently looks more like a third-round pick than a surefire first rounder. However, after splitting carries with Chris Brown for the last two seasons, Murray will finally be a feature back for the Sooners. If he can make it through the year healthy, Murray could see his draft stock improve considerably.
Projection: Third round.
10. Sam Acho, DE, Texas
6-3, 260 pounds
Senior
So far, Acho's career has followed a similar path to that of Oklahoma defensive end Jeremy Beal. The senior defensive end has seen his production rise steadily in his three years at UT, and his production spiked up with an increase in playing time in 2008.
There's no better word to describe Acho's play than "solid." He probably won't blow talent evaluators away with any one thing he does.
However, he has proven himself to be a dependable piece to one of the best defenses in the country. At the end of the day, he will find a spot on an NFL roster.
Projection: Fourth round.
11. Kendall Hunter, RB, Oklahoma State
5-8, 197 pounds
Senior
As a sophomore in 2008, Hunter finished the year seventh in the nation with 120 yards rushing per game.
He appeared primed to make 2009 his last season in Stillwater. Lingering injuries derailed those plans. He played in just eight games, carrying the ball only 89 times all season. He scored just one touchdown, compared to 16 in '08.
Even if he bounces back from his disappointing '09 season, Hunter's size may push him down draft boards. Struggle through another season like last year, and he could slip off the board altogether.
Projection: Fourth round.
12. Nate Solder, OT, Colorado
6-9, 300 pounds
As the only offensive lineman to make this list, Solder offers proof of how thin the Big 12's talent is at the position this year.
Solder certainly has size, though. Combine that with his athleticism, and some pro franchise will likely take a shot on him in 2011.
Projection: Fourth round.