Almost as soon as it debuted nine years ago, I was hooked on 24. For a while, fighting global terrorism with Jack Bauer was appointment viewing – hide the remote, turn off the ringer, shut down the computer.
Eventually, though, the writers started recycling story lines and plot devices: Bauer's family was in trouble; CTU leaked worse than a Pac-10 secondary; an eccentric rich guy was engineering a government conspiracy.
This year on the final "day," the show went for something of a desperate re-invention, with Bauer morphing into a no-holds-barred vigilante hell-bent on starting a world war in the name of "justice." It was a ridiculous final straw for a show that had lost its mojo years before.
24 went on for eight seasons. Even with as wretched as it was at the end, I watched every single episode.
During those 192 hours, I could have been out donating my time to a worthwhile cause. I could have been out developing a new hobby. I could have just watched something else.
Instead, I wasted all that time because I felt "invested" in a show that I was glad I didn't have to watch anymore when it finally ended.
This kind of "sunk-cost fallacy" is something human beings naturally struggle with. We sit through crappy movies. We plow money into failing businesses. We refuse to folds kings, even though we know the guy across the table is holding aces.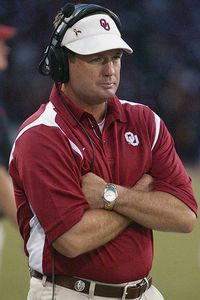 So, now that you've been properly edified, what does any of this have to do with the Oklahoma Sooners? Well, in hindsight, we may look back at 2010 as something of a "pull-the-plug" moment for Bob Stoops.
Whatever his motivations, OU's head coach has made no bones in the past about his preference for experienced players and his dedication to veterans who have been in the program. When young guys have played, it has sometimes been a case where they were simply too good to keep off the field (Adrian Peterson, Tommie Harris). More often, though, it has been out of begrudging necessity.
Yet, take a gander at the latest two-deep for OU. Older players are getting left in the dust.
Of the 47 players listed on the depth chart, 26 are underclassmen. That group includes seven true freshmen, two of whom are starting and one could start in nickel packages.
The Sooners did lose a slew of players to the pros, but not to the extent that this season's depth chart should be so heavily populated with freshmen and sophomores. So what's up with the youth movement?
Well, underneath the injuries and bad luck that contributed to OU's 2009 debacle lay a foundation sorely lacking in difference-makers.
Don't get me wrong, we're talking about some solid football players – Brian Simmons, Keenan Clayton, Brody Eldridge. Plenty of them can be found on NFL rosters right now. Often, they're the glue that keeps successful programs together.
But they're not dynamic. They won't change games. They don't keep opponents up at night.
Nowhere was this more evident last season in Norman than at wide receiver – a position group where explosiveness is always at a premium. Ryan Broyles proved to be special, but the rest of the pass catchers expected to step up didn't. Guys like Adron Tennell, Brandon Caleb, etc. played all season like they were wearing oven mitts.
In the past, OU probably would have kept plugging away with veteran receivers. This year, however, exciting freshman Kenny Stills has won a starting spot on the outside even after missing a week of fall camp with a groin injury. Stills' diminutive classmate Joe Powell has worked his way into the second string, backing up Broyles at slot receiver. Prior to hurting his ankle, freshman speedster Roy Finch was in line to get some work at receiver as well.
The receiving corps offers the best example of what's going down in Norman. There certainly won't be wholesale personnel changes. Overall, though, it seems clear that Stoops and his staff don't plan on fencing the young pups in.
Bottom line: After watching last season play out, Stoops decided to change the channel. Experienced guys who have proven they can't cut it are being marginalized in favor of high-impact youngsters. The end result should be a team that is far more explosive than the one that lost five games in '09 to teams with a combined record of 52-15.
Prediction
Without a clear-cut favorite, I've just about talked myself into Oklahoma as a legit national championship contender. Unfortunately, I also remember all of the questions that still surround these Sooners:
Stoops has coached teams that have overcome more uncertainty and emerged with conference titles.
I think that's as high as this group can go, which is pretty good.
Forecast: Pick two out of Florida State, Cincinnati, Texas, Missouri, Texas A&M, Oklahoma State... 11-2, Big 12 champs.