Looking for a lesson in the pitfalls of blatant homerism? Check out this free-and-easy preview of the Sooner receivers from last summer; not a care in the world.
If Oklahoma's offensive line play in 2009 didn't convince you that Homerism's analysis is worthless, then my take on the pass catchers definitely should.
Yet, what kind of college football blog forgoes the token preseason position previews? As ludicrous as it may seem, we have to soldier on.
OU quarterback Landry Jones must know what that's like. Imagine how he must have felt trudging out there every Saturday last fall knowing that catchable balls were just as likely to bounce off his receivers' helmets as they were to land in a target's hands.
And think about all the heartburn this crew probably caused for wide receivers coach Jay Norvell. He tried just about every combination of wideouts imaginable last season, failing to ever establish a reliable rotation that could be counted on for competence, let alone one that could threaten opposing secondaries.
Stop me if you've heard this one before, but there's some reason for optimism when it comes to the OU receivers in 2010.
First, Jones could be throwing to the finest wideout in the country. Junior Ryan Broyles made a gigantic leap last year from promising newbie to legit playmaker. He caught more touchdowns, 15, in '09 than any returning player in D-I and averaged 7.5 catches and 93.3 receiving yards per game on the year.
Then there's rainmaking freshman Kenny Stills. An early enrollee, the Californian had jaws dropping during spring practices. The coaches have continued to sing Stills' praises this fall, so it's not like he's some flash in the pan.
Even though Stills has yet to see the field in an actual game, the talk from fall camp has left little doubt that Norvell and head coach Bob Stoops expect the rookie to grow into the role Robin to Broyles' Batman in the passing game. Stills may not start against Utah State on Sept. 4, but if he keeps up at this pace, he'll be seeing the bulk of the snaps before conference play starts.
As for the rest of this unit, there's a little potential, a whole lot of inconsistency and not much production.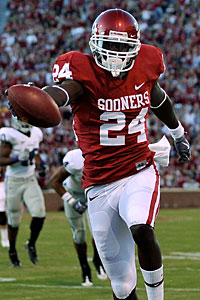 Tantalizing prospect Dejuan Miller may have the inside track to be the first man up in three-receiver sets. Miller calls to mind former OU receiver Quentin Chaney, a physical specimen who looked the part, but didn't exactly play it. I can't put my finger on it - there's something about Miller that just seems out of sync. For every outburst like his nine-catch day against Kansas State last year, he gets blanked in another.
Of course, if Miller can put it together, he'll be close to unguardable.
Junior Brandon Caleb had a solid start to the year in '09, then fell off the face of the earth in the second half. Sophomore Jaz Reynolds showed little in his first season. Don't even get OU fans started on Cameron Kenney, who somehow seems to be fighting for a spot in the rotation despite a terrifying number of drops last season.
Other freshmen such as Justin McCay and Joe Powell could eventually work their way into the mix, but they'll be on the sidelines to start the year.
As for the tight ends, none of these guys appears to the next Jermaine Gresham. (Then again, who is?) However, Trent Ratterree showed last season that he can give Jones a reliable option on passing routes. OU's QB demonstrated faith in Ratterree in the Sun Bowl win against Stanford, hooking up with the walk-on three times for 86 yards. So long as Ratterree can keep defenses honest, he'll contribute to the cause.
The Sooners essentially ran the offense through Broyles last season, because he was as close to a sure thing as OU had. Overall, he accounted for 30 percent of the team's catches and receiving and more than half of the TD catches. Although Broyles may be the best receiver to come through Norman since Mark Clayton, the offense will benefit if his share of the production decreases this fall.
As 2008 proved, offensive coordinator Kevin Wilson's offense functions best when the ball is being spread around among the receivers. The 2010 group could grow into that kind of well-rounded unit.
If a true freshman lives up to billing.
If an inconsistent beast finally blossoms.
If a dependable option emerges from a group of unreliable returnees.
Come to think of it, Norvell may not want to throw out the Pepto just yet.