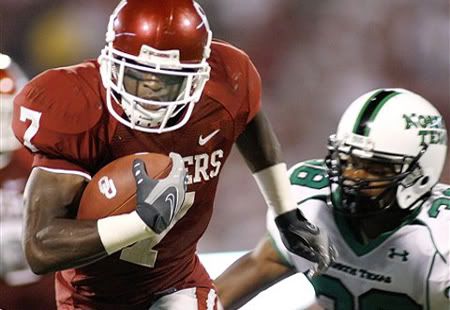 (Previous position previews for the 2010 Oklahoma Sooners: QBs.)
Hey, have you heard the news about Oklahoma Sooners running back DeMarco Murray? Bob Stoops says he's going to get the ball more this year.
Yeah, really. Don't believe me? Look here. And here. Check this out. And this.
Somehow this turned into one of the big stories of the Big 12 media days last month. Bringing up Adrian Peterson's name definitely has something to do with all the attention being paid to Stoops' proclamation.
There's more to it than that, though. Having watched the Sooners struggle mightily to run the ball in 2009, OU fans are hoping Stoops and the coaching staff have a plan to bolster the ground game.
I'm not entirely sold that this will.
Don't get me wrong, I'm pulling hard for Murray. To this point, freak injuries during his freshman and sophomore seasons have derailed the promising career of the fifth-year senior, who arrived on campus to great fanfare. A terrific swan song in Norman would make for a sweet ending to such a hard luck tenure.
However, as I've mentioned before, an AD-like workload for Murray would mean literally doubling his per-game touches, relative to his career average. That's asking a lot from someone with Murray's checkered injury history. Even conceding that Murray's injuries have come on bizarre special teams plays, it still doesn't provide much reassurance that Murray can play the role of bell cow.
Also, feeding Murray the rock doesn't make much sense if he can't move it more effectively on the ground.
| | | | | | | | |
| --- | --- | --- | --- | --- | --- | --- | --- |
| Year | G | Attempts | Yards | Avg. | TD | Att/G | Yds/G |
| 2008 | 13 | 179 | 1002 | 5.6 | 14 | 13.8 | 77.1 |
| 2009 | 13 | 164 | 680 | 4.2 | 8 | 13.7 | 56.7 |
*Stats courtesy of cfbstats.com
Is Murray solely to blame for all that lost production in the ground game? Not at all. (We'll discuss some of the other culprits at some point in the coming weeks when we get to the offensive line.)
But anyone who thinks Murray has all the explosiveness that made him such an exciting prospect a couple years back probably still DVRs Entourage. He has definitely grown into a stronger runner between the tackles, but he no longer seems to run with the burst or authority that made him such a dangerous big-play threat not so long ago.
Fortunately, should the Sooners find that Murray needs some relief, running backs coach Cale Gundy has access to one of the deepest stables of thoroughbreds in the country. Touted recruit Jermie Calhoun is entering his third season at OU and may be ready to put it all together. After showing flashes of brilliance at running back in '08, senior Mossis Madu returns from last year's audition at wide receiver. Speedster Jonathan Miller had some promising moments as a freshman last year before injuring his knee.
The two guys creating the biggest stir, though, are young bucks Brennan Clay and Roy Finch. The ever-reliable word on the street has it that the freshmen all-purpose backs lit up summer workouts and may be ready to go from the jump.
Of the two newbies, Finch appears more likely to see immediate action. Offensive coordinator Kevin Wilson could use the lightning-quick jitterbug out of the backfield, or he could split Finch out wide for screen passes and endarounds. (Hit big on a few of those early in the season and Finch will force defenses to account for him every time he sets foot on the field.)
Even if all the big talk about Murray's workload is just that, OU fans should take heart in the fact that the running game has been such a hot topic in the build-up to the season. The Sooners' commitment to the ground game frequently waned last season, probably because it was about as productive as Homerism's lady when she's caught in the throes of The Steve Wilkos Show. ("Yo, drop that zero and get yourself a hero!")
Whether OU relies primarily on Murray or a rotation of runners, it seems pretty clear the Sooner O will flow through the ground game this season.