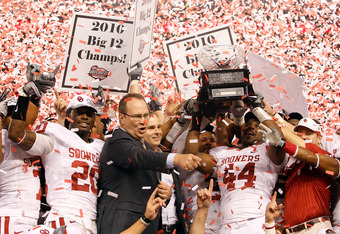 The 2010 Big 12 Championship Game probably won't go down as one of the best-played games in the history of the legendary Oklahoma-Nebraska rivalry. After all, these two once tangled in a classic widely known as the "Game of the Century."
Still, when the final gun sounded last night, it sure felt like a great way for these two traditional powers to go out. (Admittedly, OU winning had something to do with that for me.)
The Sooners and Cornhuskers slugged it out for 60 minutes. Points didn't come easy. Neither team had any bullets left in its holster when all was said and done.
Big players like Travis Lewis and Jared Crick made huge plays. Less heralded guys - Cameron Kenney, Rex Burkhead, Pryce Macon - came up huge.
Fittingly, this game was more about who got the stops than who could move the ball. The OU defense has suffered its fair share of deserved criticism this year. Last night, though, was a different story.
NU started strong, racing out to a 17-0 lead. From there, the Sooner D put the clamps down on the Cornhuskers. OU terrorized NU's fumble-prone star Taylor Martinez into backbreaking mistakes. It got so bad for T-Magic that Burkhead operating out of the wildcat essentially became NU offensive coordinator Shawn Watson's go-to option in the second half.
For their part, I thought the Blackshirts answered the bell, too. The Pelini brothers' defense surrendered some yards, but NU forced the Sooners to kick field goals when they got in scoring position. Can't ask for much more than that.
Anyway, like myself, I think most Sooner fans are sad to see this longstanding rivalry come to an end. At least we got a conclusion worth getting all nostalgic about as the 'Huskers are developing new grudge matches in the Big Ten.