The hits just keep on coming for the Oklahoma Sooners this offseason.
Arrests and suspicious snitching have marred the two month-period since OU whipped the Connecticut Huskies in the 2011 Fiesta Bowl. Today's news that star cornerback Jamell Fleming isn't in school looks like the toughest blow so far.
I have no inside information about Fleming's status and would rather not traffic in rumors about what he's facing. I don't hold out much hope that Fleming will be back on the field in the fall, though, despite the open-ended nature of OU coach Bob Stoops' statement about the all-conference cover man. These situations rarely end well, in my experience.
It's a sad turn for Fleming, who may have been the best player on the OU D in 2010. He finished second in the Big 12 in interceptions with five. He would have had a shot at All-American honors in the coming season, pairing with Demontre Hurst to give OU the best corner combo in college football. Fleming also may have had a chance to be one of the first defensive backs picked in the 2012 NFL draft.
If you're searching for the upside, the Sooners have more than enough talented youngsters in the defensive backfield to step in for the departed Fleming.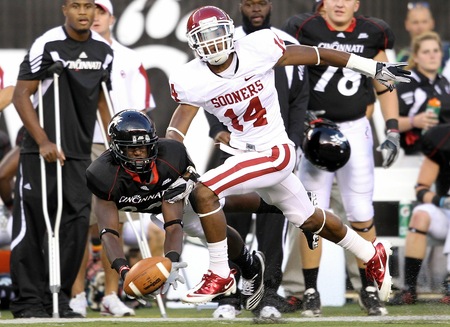 The two obvious candidates to start at the vacated corner spot are true sophomore Aaron Colvin and third-year sophomore Gabe Lynn. Colvin has had the coaching staff raving since he first set foot on campus in Norman and gave a good account of himself last season when called upon. He's probably the true clubhouse leader.
Lynn could get the call, however, if Stoops et al decide Colvin would be a better fit at safety. Chances are, in fact, that both Lynn and Colvin will start; it's really just a matter of who fits where.