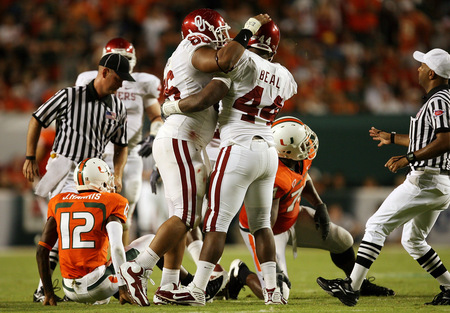 When the football savants talk about the patented Stoops family defense, pressuring the quarterback is invariably the first thing that comes up.
In the last five years, however, the stats indicate that the Oklahoma Sooners' pass rush has lost some of its effectiveness. OU's defense has experienced a clear drop-off in sacks in both the aggregate and per pass attempt since the earlier years in Bob Stoops' tenure.
| | | | |
| --- | --- | --- | --- |
| Year | Pass Attempts | Sacks | Sacks/Attempt (%) |
| 2010 | 533 | 37 | 6.94 |
| 2009 | 472 | 38 | 8.05 |
| 2008 | 569 | 42 | 7.38 |
| 2007 | 521 | 32 | 6.14 |
| 2006 | 460 | 26 | 5.65 |
| 2005 | 483 | 45 | 9.32 |
| 2004 | 449 | 39 | 8.69 |
| 2003 | 464 | 45 | 9.70 |
Before the Brent Venables bashers start in on their favorite whipping boy, bear in mind that the decrease in OU's sack rate coincides with the growth of the spread offense. No league has embraced high-flying passing attacks like the Big 12. Offenses predicated on spreading the field and quick throws have no doubt played a role in the Sooners' declining ability to get to the quarterback. In fact, they were built in part to help the Missouris and Baylors of the college football world keep OU's wolves at bay.
On its face, OU's relative inability to get to the quarterback in the last five seasons would look like cause for major concern. Devil's advocate: The Sooners have been no less successful in terms of wins and losses during that stretch than they were during the earlier half of the 2000s.
Whatever the case may be, it doesn't make OU's need to fill the pass-rushing void this year any less important. Of the Sooners' 37 sacks last season, 15 departed with Jeremy Beal, Pryce Macon and Adrian Taylor. Losing Beal – he of the high motor and 29 career sacks – creates an especially big hole to fill coming off the edge.
Fortunately, OU does return some solid depth along the defensive line. Senior defensive end Frank Alexander can give opposing defenses fits when he feels like it. Ronnell Lewis can be disruptive with a hand on the ground or standing up. Talented redshirt freshman Geneo Grissom should get his shot. Maybe the light goes on for R.J. Washington in his fourth year as a Sooner.
There are also all those ways Stoops and Venables try to bring pressure from different angles with safeties and linebackers.
Beal and Co. may be gone, but optimistic Sooner fans should take solace in knowing that there's plenty of room for improvement and there are plenty of guys on campus who can help OU turn up the heat on opposing QBs.