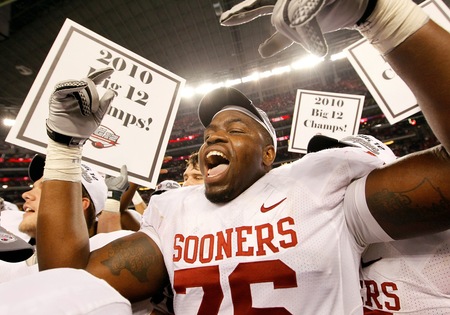 The 2011 offseason has yet to reach the level of "full-blown disaster" for the Oklahoma Sooners, but today's news that first-team right tackle Jarvis Jones will miss significant time with a torn patellar tendon certainly doesn't help.
Throw in Jamell Fleming's absence this spring and three starters – Tony Jefferson, Kenny Stills and Stacy McGee – running afoul of the law in the first three months of the year, and Sooner fans should start hoping Jones' injury is the last bad news out of Norman for a while.
Preliminary estimates have Jones returning in October, which means he'd miss September showdowns with Florida State and Missouri. The Red River Shootout would have to be in doubt as well. In fact, if Jones is laid up from now until October, you have to wonder how much he'll be able to contribute at all this year.
The loss of Jones deals a tough blow to OU's depth along an offensive line that needs plenty of help. Jones essentially served as a sixth starter on the line last season and saw significant action as a backup in 2009. Prior to transferring to Oklahoma, Jones contributed on the LSU Tigers' 2007 national championship team. That kind of experience up front usually proves valuable, especially early in the season.
The upside for the Sooners is that while the candidates to step in at right tackle lack Jones' experience, they're not hurting for viable replacements.
Josh Aladenoye ("uh-LAD-uh-noy"), a sophomore who saw limited snaps in 2010, looks like the clubhouse leader. Checking in at 322 lbs., Aladenoye would bring some heft to a somewhat undersized o-line. Also, after taking a redshirt year in '09, Aladenoye's relative experience in the OU program would have to give him a leg up in the eyes of the OU coaching staff.
Daryl Williams, a four-star recruit from the class of 2010, offers an intriguing option. The redshirt freshman quickly worked his way into the two-deep in the offseason as the second-string left tackle, a testament to the coaches' opinion of Williams' talent. Rumblings around the program have Williams pegged as OU's star lineman of the future, so no one should be shocked if he gets the nod come Labor Day weekend.