(Editor's note: Yet another quality product of the Mizzou School of Blogging, David Singleton's Pigskin Punditry offers up insightful college football coverage from coast to coast. As part of Best of Week, David takes mascot dissection to a whole nother level. Follow him on Twitter: @pigskinpundit.)
When Allen approached me to be a part of Best of Week, my first thought was, "Wow. I'm honored." It's always a nice feeling when others recognize your writing.
The second thought I had was, "Best of what? What have I gotten myself into?"
I don't normally do list posts; just not my thing. I couldn't resist going in this direction, though.
With my work and family obligations, and the lack of access to media passes, I don't get to travel to games like I would love to do in a perfect world. However, since I spend the better part of 15 hours in front of my television every Saturday during the fall, I thought I would do a post related to the colorful ambiance that separates college football from the league that pays its players more, the NFL.
(What? Too soon?)
Anyway, I find myself on the opposite side of table from ESPN's Michael Wilbon, who finds 99 percent of mascots to be worthless. I think that in college, for most programs, they are a nice fit if you have one. (I'm looking at you, Dave Brandon; yes, Michigan has had live wolverines and costumed mascot in the past. That doesn't mean you should try to bring one back because you want to reach out to the "younger demographic." But that's another column.)
For this "Best of" piece, I decided to pick the best of the best from eight different mascot categories. I'm doing this because it's not really fair to pit Ralphie from Colorado head to head against the Leprechaun of Notre Dame. I prefer to look at those who are in certain classes separate from each other. Although we are going to lead off with my second favorite costumed mascot (behind the one from my alma mater, of course).
Anthropomorphic Fowl: Puddles, Oregon
Bordering a bit on overexposed since Oregon has blown up over the last few seasons, but he's a motorcycle-riding, cougar butt-kicking duck. He also has a change of wardrobe for those mornings when College GameDay is at Autzen Stadium at 7 in the morning.
Anthropomorphic Animal: Mike the Tiger, LSU

In a category dominated by lots of fuzzy, furry animals, and even facing a challenge from his live brother right on his own campus (and the live Mike has a pretty swank pad for a captive animal), costumed Mike seems to exhibit the spirit of lassiez les bon temps roulez. And as a Missouri Tiger, it pained me to not pick Truman here. But I resisted.
Live Fowl: Air Force Falcon

It was a close call in this category between the Falcon and Nova, Auburn's current War Eagle. But the War Eagle didn't go AWOL to check out the sights and sounds of Shreveport's Sam's Town casino last December, did he?
Live Animal: Tusk, Arkansas

Woo Pig Sooie. Actually, this is a Russian Wild Boar, not a Razorback, since Razorbacks actually don't exist in the wild anymore outside of Australia, apparently. But these boars are quite ill-tempered, according to the Arkansas Razorbacks web site:
"Big Red III escaped from an exhibit near Eureka Springs in the summer of 1977 and ravaged the countryside before being gunned down by an irate farmer. Another live mascot, Ragnar, was a wild hog captured in south Arkansas by Leola farmer Bill Robinson. Before Ragnar's spree was done, the mighty animal had killed a coyote, a 450-pound domestic pig and seven rattlesnakes."
Well, okay then.
Animated Human: Sparty, Michigan State

The issue with a lot of the animanted human mascots is that they are grossly disproportionate, often because it is an oversized animated head placed on the body of a regular human being. Either that, or there is the inflatable used by one school in particular that has never made sense to me.
Sparty is disproportionate, but in the way that a cartoonish rendering should be slighty off. Because it's a costume and not the wearer's actual body that is showed off, it works.
Live human: Vili, Hawai'i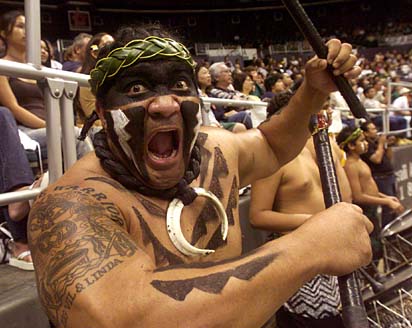 I know, the Notre Dame Leprechaun, well, presumably has magic. Chief Osceola of Florida State has the spear. The USC Trojan has a sword as he sits astride Traveller, and the Mountaineer of West Virginia has a gun (and more often than not, a fierce beard, too).
But seriously? Look at the Hawai'I Warrior. Watch him doing part of the haka. I want that guy on my side.
Flora: Tree, Stanford

Okay, so the Tree is technically not the official mascot of Stanford. Once the school changed its nickname from Indians in 1972, they did away with their mascot. But the Stanford Band (a band with a colorful history, to say the least) essentially held a contest to determine a new unofficial mascot. The Tree won. It is unique because each person who dons the costume creates their own. Unless you're a sportswriter who expresses an interest and someone decides to give you a shot.
Transportation (tie): Ramblin' Wreck, Georgia Tech

It's been repainted several times. Many modifications have been made over its 81 years of existence. But the gold 1930 Ford Model A driven onto the field at Bobby Dodd Stadium with cheerleaders hanging off the side is one of the most iconic entrances in college football today and one of the coolest in my book. And unlike Stanford, the Ramblin' Wreck is official.
Sooner Schooner, Oklahoma

Like I was going to leave this one out? Again, it's all about iconography, and that covered wagon pulled by two white horses is definitely an entrance that remains in the forefront of a college football fan's mind.