(Editor's note: I know, I know – who cares about Big East football? Well, I managed to find the one guy who does: Mark Ennis. Mark's blog Big East Coast Bias tracks all of the conference's comings and goings, and he explains why he's drinking a glass half full of the Big East Kool-Aid. Follow Mark on Twitter: @Mengus22.)
I am likely the only person in North America considered a Big East football homer and even I can't deny that the 2010 season represented rock bottom for the conference. After West Virginia and Pittsburgh started the season in the top 25, the league limped to the finish line with no ranked teams and sent an 8-4 Connecticut team that was shut out by Louisville to be dissected in the Fiesta Bowl by Oklahoma. The 2010 season did little to quell the criticism that the Big East is, after all, not worthy of its BCS automatic qualifying status and, judging by 2010 alone, that would seem to be the case. But the league has performed well (better than the ACC in BCS bowl games, for instance) in the past and there are some reasons to be optimistic about its future on the gridiron.
The best thing working in the Big East's favor is that the coaching carousel might finally be ending. The conference has been decimated by a coaching brain drain unlike any other in recent memory. In the past five years, the Big East has lost Bobby Petrino, Rich Rodriguez, Brian Kelly and Randy Edsall. In fact, since the departure of Miami, Virginia Tech and Boston College for the ACC, no coach that has won the Big East has stayed at his school for more than one more season. Greg Schiano has been at Rutgers for 11 years and his tenure is longer than the rest of the Big East coaches combined. No conference can succeed with coaching turnover like that.
It appears now that the coaches in place are likely to hang around for a while. Charlie Strong waited two decades to become a head coach and has said repeatedly he feels a great deal of loyalty and gratitude towards Louisville for finally giving him his shot. Doug Marrone is a dyed-in-the-wool Syracuse guy that would be unlikely to leave Syracuse for anything but the NFL. Paul Pasqualoni is frankly a bit too old to be considering jumping around jobs from UConn and is a New England native who likely considers this his last job and an opportunity to cement his legacy as a coach. Skip Holtz waited for the South Florida job to open and turned down some bigger offers while he was at East Carolina to get the job. He loves the state of Florida and he loves Tampa. Todd Graham jumped at the chance to leave Tulsa for Pittsburgh and is another who would be unlikely to leave for anything but the NFL or one of the top shelf jobs in college football. But there's nothing any school can do to keep its coach when those jobs come calling.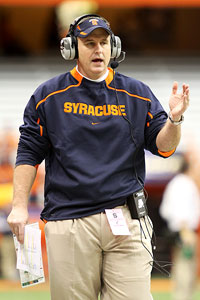 In the future, the Big East will also feature some of the best chess match battles between coaches that fans could ask for. The conference now boasts some of the most imaginative and clever offensive minds from around the country. Dana Holgorsen was the nation's hottest offensive coordinator at Oklahoma State and Houston and now brings his modified Mike Leach-style attack to West Virginia. Louisville offensive coordinator Mike Sanford was the architect of the spread-option offense that made Urban Meyer famous at Utah. Butch Jones made Dan Lefevour a household name at Central Michigan and though his team struggled to a 4-8 record last year, still put up big numbers at Cincinnati. Doug Marrone is his own offensive coordinator at Syracuse and helped turn the New Orleans Saints into one of the best offenses in the NFL in his stint as offensive coordinator there from 2006-2008.
Defensively, the lineup is just as good. Jeff Casteel is the nation's expert on the 3-3-5 stack defense and has made a living using his unique version of it at West Virginia. Todd Graham is also a 3-3-5 devotee, but his version differs slightly from Casteel. Charlie Strong developed a reputation as one of the nation's best defensive minds in his time at South Carolina under Lou Holtz and at Florida under Ron Zook and Urban Meyer. In 2011, UConn quietly added one of the best up-and-coming defensive minds in former Maryland defensive coordinator Don Brown. Brown was the one coach Randy Edsall hoped to retain when he took the Maryland job, and when he opted to join Pasqualoni at UConn, the Big East scored yet another excellent defensive mind. In 2012, the Big East will welcome the creator of the 4-2-5 defense designed just to stop spread attacks when Gary Patterson and TCU come on board.
The Big East will also benefit from expansion and revenue from the upcoming new television deal. By adding TCU and a 10th football playing member in the near future, the existing football teams will no longer have to play an uneven conference football schedule, nor will they have to schedule five non-conference games annually. That alone should save some schools money or help them avoid having to play peculiar home-and-home series with teams like Arkansas State or FIU. After the 2012 season is over, the Big East will renegotiate its television rights deal, which currently is woefully inadequate to compete with the other BCS conferences. All indications are that the new deal will significantly increase revenue for the football-playing members (and there's no reason to think the same won't be true of the basketball side as well). The football-playing members will then have a much better chance of keeping quality head coaches and attracting quality assistant coaches by offering competitive salaries.
There's no debating that the 2010 season was disastrous for the league in terms of its already flimsy reputation among college football fans. Still, there are reasons for even the most pessimistic of onlookers to think that Big East football is headed for a rebound. While it will surely never be the SEC or the Big Ten, the league looks poised to stand confidently alongside the other automatic qualifying leagues.