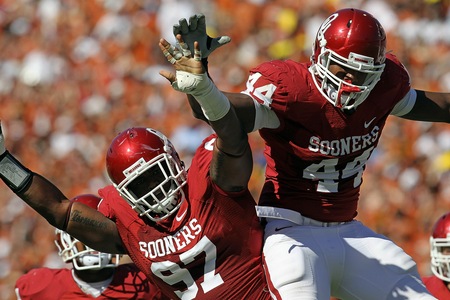 Last season was far from a banner one for the Oklahoma Sooners defensive line.
Was it an objectively bad year? No. It simply paled in comparison to what OU had fans had grown accustomed to in the previous few years.
Nowhere was the drop-off more evident than the front four's struggles against the run. OU's d-line had major problems against the veer option, allowing undermanned teams such as Air Force and Cincinnati to churn out yards on the ground. The problems were particularly acute on first down, putting opponents in advantageous spots on second and third down.
Yards/Attempt on 1st Down
Year
Yds/Rush
Rank
(Nat'l)
2010
4.89
82
2009
3.37
12
2008
3.92
49
2007
3.52
24
*Data courtesy of cfbstats.com.
So, what happened, and why should 2011 be any different?
Defensive Tackle
All-everything bruiser Gerald McCoy had wreaked havoc at defensive tackle for three years, and that interior presence was noticeably missing in 2010.
The d-line definitely lacked a McCoy or Tommie Harris last season, and that's no different this time around. What really hurt in '10, however, was simply little to no depth at defensive tackle.
As sophomores, Stacy McGee and Jamarkus McFarland played in all 14 games. Aside from those two, the other members of the group were hobbled by injuries all year. Adrian Taylor never really recovered from a horrific leg injury in the 2009 Sun Bowl, gutting out 10 games before going down with a torn Achilles. Casey Walker started the first four contests before missing six games with a knee injury. True freshman Daniel Noble played in five games before being felled by concussion issues that ended his career. By the end of the season, the coaching staff had been forced to put together a new 3-4 package, moving star defensive end Jeremy Beal to outside linebacker, to compensate for all the missing bodies at tackle.
Between Walker, McGee and McFarland, the Sooners have the makings of a solid tackle rotation. After those three, it gets a little dicey. Torrea Peterson, who took a redshirt last season to bulk up, will likely be used to spell the starters. Freshman early enrollee Marquis Anderson could be called into service, although the preference would likely be for him to sit a year.
Also, don't sleep on Josh Aladenoye (6-6, 316 lbs.). Initially, Aladenoye was competing for the starting right tackle job vacated by injured Jarvis Jones. If the big fella can get up to speed, his size could be a huge asset up the middle.
Defensive End
At first blush, the loss of Jeremy Beal at defensive would seem to loom large for OU. One of the most productive Sooner defenders in history, Beal brought a big-time motor coming off the edge game in and game out. That said, even in winning 2010 Big 12 Defensive Player of the Year, Beal clearly missed playing with McCoy next to him last season.
Another year at defensive end for junior Ronnell Lewis could go a long way towards making up for the loss of Beal. In his first season in Norman,"The Hammer" gained notoriety for his physical special teams play. Last season, the coaching staff moved him from linebacker to rush end, with sometimes spectacular results.
Now, however, Lewis' career with the Sooners remains in limbo as he attends to what head coach Bob Stoops has described as "personal matters" during fall camp. The door to his return obviously remains open, but that uncertainty doesn't inspire much confidence.
Regardless of Lewis' status, fifth-year senior Frank Alexander will hold down one starting DE spot. Alexander started slowly in '10, but ended the year with 7.5 sacks, just one behind Beal for the team lead.
If Lewis is a no-go, look for junior David King to get the nod in his place. While not as explosive as Lewis, the junior from Texas does have roughly 30 pounds on him, so that could help a somewhat undersized front. R.J. Washington and Geneo Grissom could contribute as well.
Stoops and the rest of OU's coaching staff have gone out of their way to praise the defensive line during fall camp, which should give Sooner fans some comfort that the unit will improve this year. If anything, it's a decidedly more battle-tested group than what Oklahoma had a year ago.
Even so, last season, the d-line's performance hinted at limitations that no championship-level team has. The truth is that this unit absolutely must improve for OU to live up to its No. 1 preseason ranking. Holding steady just won't cut it.