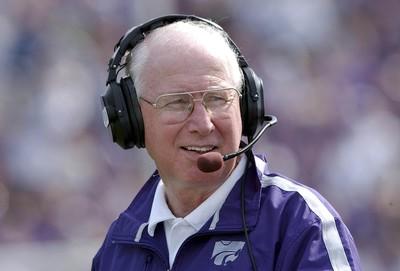 The Sooners find themselves at a crossroads.
Since everyone bought into the "BCS Title or Bust" mentality, Sooner Nation went into a tailspin after last week's loss to Texas Tech. So, either you crash and burn, or you pull yourself out of it.
This week it's another test the Sooners must face. However, this one is wholly unexpected, as no one thought the Sooners would have to salvage a season after a loss to a unranked team.
The temptation, of course, is to find all the wacky scenarios in which OU could make the title game. That's crackhead-in-denial thinking. You guys need an intervention.
OU should have hit a bottom with the Tech loss that enables them to do what they should have been doing the whole time – looking inward and improving themselves, not seeking admiration for make believe accomplishments. This is the danger I wrote about in the spring. Sometimes it sucks to be right. Just play football, guys.
Initially OU appeared to be in meltdown mode. There was player reaction to Twitter fan posts, and linebacker Travis Lewis showed his frustration by calling out other players for not playing while hurt. Hopefully everyone got together and did a group hug at the players only meeting. Now maybe they'll focus their frustration on the rest of our opponents, starting this week with Kansas State.
Best Case
One thing that is apparent is that when the Sooners are truly motivated, they don't beat themselves. How many times have we lost to inferior teams when the game was highly touted? I can't think of any, and that's how it should be with an elite team. Our losses have come when we've overlooked our opponent or the opponent was just a better team that day. When the Sooners are in a zone, they own their opponent.
Outcome: There's no overlooking an undefeated team on the road. The Sooner offense shakes off the Tech hangover and executes. The Wildcats are ranked 47th in pass efficiency defense. This is not enough to contain an elite passing offense that executes. Travis Lewis knocks some sense into this defensive teammates and stymies the one-dimensional offense of Kansas St. OU wins 38-20 and takes the first step to building a conference champion.
Worst Case
Kansas St. comes in undefeated and has done the gritty work it takes to pull out tough wins. This game was noted in the preseason as a possible trap game and perhaps that's why everyone overlooked the real trap game.
Everything Kansas St. is, OU isn't. Kansas St. controls the game by methodically grinding out yards on the ground. The Wildcats' lowest rushing total has been 174 yards. It begins and ends with quarterback Collin Klein, who is also the team's leading rusher. The 'Cats eat clock and minimize the time their defense is on the field. As a result, the fresh Wildcat defense is ranked first in the Big 12.
Outcome: Kansas St. continues to win the time of possession battle, limiting the opportunities that Landry Jones has to direct his offense. The OU defense gets frustrated as it's time on the field increases and eventually gives up big plays. The offenses misfires just enough to provide any compensation for a tired defense.
Kansas St. grinds out a 37-35 win, and the Sooners ensure one of the most disappointing seasons in Bob Stoops' tenure.