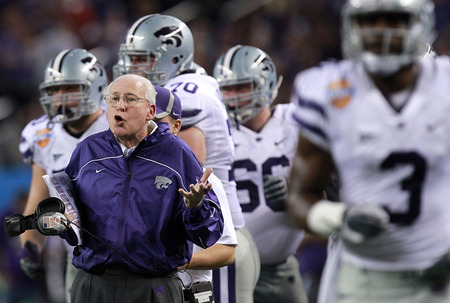 No. 15 Kansas State (3-0) at No. 6 Oklahoma (2-0)
Sept. 22, 6:50 p.m. ET
Owen Field (Norman, Okla.)
TV: FOX
Line: OU -14.5
Series: 93rd Meeting; OU leads 71-17-4
GAME OUTLOOK
Neither team has yet to play a quality opponent… This game will be the gauge of how good each really is… Kansas State will be playing its first road game, and the Wildcats haven't won in Norman since 1997 when John Blake coached the Sooners.
Bill Snyder will test Landry Jones by using a lot of blitzes, just as he did versus OU in 2001 when his Wildcats pressured Nate Hybl, but wound up on the short end of a 38-37 score… K-State has 8 sacks in three games this year, and OU has given up 6 sacks in two outings… KSU's defense ranks 41st in total yards (344.3 per game) and 80th in pass defense (251 per game)… Linebacker Arthur Brown leads the team with 28 tackles… Defensive end Adam Davis leads the team and Big 12 Conference with 3 sacks and 3 forced fumbles… K-State has a strong running attack, producing nearly 252 yards per game (5.9 per carry)… Running back John Hubert leads with 296 yards on 43 carries and 3 TDs… The Wildcats needed to improve on their passing game, and Collin Klein has shown he is more of a dual threat this year… He has completed 73 percent of his passes for 609 yards and 5 TDs… He also has rushed for 210 yards and 4 TDs… Tyler Lockett can be a weapon on kickoff returns and help put the 'Cats in good field position… He has averaged 43.2 yards per return with 1 TD and last week was named the Big 12 Conference Special Teams Player of the Week.
The Sooners needed to improve on their running game and appear to have had success with JUCO transfer running back Damien Williams… He has collected 259 yards on 20 carries (12.9 per carry) and 5 TDs… It would be nice to see him get 20 totes in this game… His presence has allowed OU to have a balanced attack… 53 percent of all plays in the first two games have been on the ground… Quarterbacks for the last two Wildcat opponents (Miami and North Texas) combined to hit 46 of 56 passes (82.1 percent) for 430 yards with 2 TDs and 0 INTs, while Missouri State tossed the ball for 323 yards in the opener.
Football games are always won in the trenches, and OU needs to step it up on both sides of the pigskin… The o-line must keep Landry off his butt and open running lanes for the halfbacks… The d-line must slow the Wildcats' ground attack first… Having Casey Walker back at tackle helps with depth… Expect OU to go to the 4-3 defense to slow up Klein… This would probably mean Joseph Ibiloye as the third LB… Look for Jones to torch the K-State secondary like he did last year (35-47, 505 yards, 5 TDs, 2 INTs).
Landry Jones, Home-Game Hero
| | Att | Comp | Yards | Pct. | TD | INT | Rating | Record |
| --- | --- | --- | --- | --- | --- | --- | --- | --- |
| Home | 452 | 701 | 5,910 | 64.5 | 58 | 13 | 158.9 | 17-1 |
| Road | 609 | 991 | 6,943 | 61.5 | 39 | 29 | 127.4 | 14-7 |
| vs. KSU | 61 | 84 | 799 | 72.6 | 9 | 2 | 183.1 | 2-0 |
ETC.
*OU leads the series 38-6-3 in Norman.
*OU owns a five-game winning streak in the series and has won eight of the last nine meetings, all under Bob Stoops.
*OU has never lost on September 22nd and holds a 6-0 record on that date. The Sooners defeated Central Oklahoma, 99-0, in 1917; Hondo (TX) Army Air Field, 21-6, in 1945; Syracuse, 7-3, in 1972; Tulsa, 49-13, in 1979; Baylor, 34-15, in 1984; and Tulsa, 52-10, in 1990.
*Kansas State is 3-4 on September 22nd.
*The Sooners have owned a 32-game win streak (1939-68) and 22-game win streak (1971-1992) in the series.
*The Wildcats' longest win streak in the series is five games (1993-97).
*Stoops is 16-4 in games following a bye week.
*Both teams have been ranked in the AP poll together only 8 times and each has won four times; K-State has won three of five when ranked lower than OU.
*The Sooners have never lost to a ranked team in Norman under Stoops' reign. The average score has been 43-16. The closest contest was a 38-37 win over Kansas State in 2001.
*Landry Jones and Collin Klein married basketball players at their respective schools.