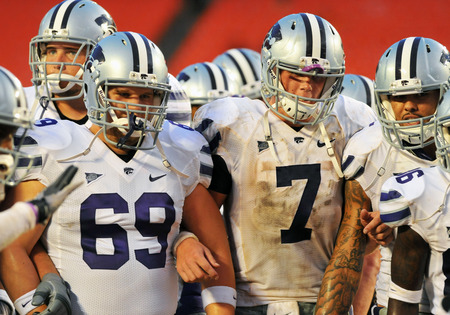 No. 15 Kansas State (3-0) at No. 6 Oklahoma (2-0)
Sept. 22, 6:50 p.m. ET
Owen Field (Norman, Okla.)
TV: FOX
Line: OU -14.5
Were the Sooners sleepwalking through their first two games? Did the week off help? Is the 2012 edition of OU's team just not all that good?
A game against a quality team like Kansas State doesn't make for the ideal situation to find out the answers to such questions. What will the Crimson and Cream reveal Saturday night? Keep an eye on:
*Collin Klein's passing percentage.
Right now, Klein's completing an absurd 72 percent of his passes, almost 15 percentage points higher than last year. OU's secondary is going to be huge jump in competition for Klein's passing skills.
*KSU's yards per carry on first down.
OU will need to win first down and get the Wildcats off schedule.
*KSU's tight end targets.
One area where KSU could really hurt OU is play action to the TEs across the middle of the field. This area between OU's linebackers and safeties has not really been tested to date.
*Tony Jefferson in run support.
This should be a game where Jefferson is a force on the edge against the Wildcats' running game. Jefferson got hurt stuffing a run play versus Florida A&M.
*The return of David King to defensive end on early downs.
Can King be a force in the run defense from the DE position? King should fix that one area on defense that has been suspect at times.
*Is Damien Williams the real deal?
KSU has been playing solid run defense so far, shutting down Miami freshman star RB Duke Johnson. KSU is limiting opponents to 2.9 YPC. If Williams gets the OU ground game going, KSU is going to be left with a horrible choice because ….
*Landry Jones spreading the ball around.
The biggest advantage OU has in this game is its speed at wide receiver versus KSU's secondary. Jones shredded KSU for five hundred yards in Manhattan a year ago. Can Jones consistently find Trey Metoyer and Justin Brown in addition to Kenny Stills? Last year Jones had big passing days to Stills and Jaz Reynolds along with a reception record for Ryan Broyles.
*Does Kenny Stills start his Biletnikoff Award campaign in earnest?
Broyles toasted KSU for 170 yards last year. Stills is off to a great start, but a huge game against KSU could jumpstart his march to one of the few offensive skill position trophies never given to a Sooner.
*Can OU sub in Jordan Phillips and Marquis Anderson for a series or two at defensive tackle when the game is in doubt?
Any reps from the freshman DTs will go a long way towards keeping the Sooners' interior defensive linemen Casey Walker and Jamarkus McFarland from getting gassed by the KSU running attack.