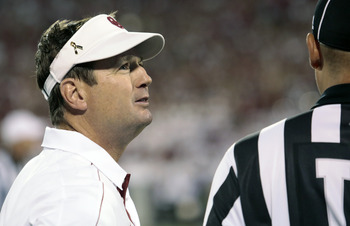 Now is the time for Bob Stoops to earn his multi-million dollar salary.
The 14-year head football coach is already on the hot seat with the fans who are growing weary of unimpressive performances. He needs to make some serious changes to his squad.
OU has gone 32-11 (.744) since 2009, and the Sooners 4-3 in the last seven games. That's quite a drop from Stoops' record of 109-24 (.819) in his first 10 years. He is the first coach to lose to Oklahoma State three times. He also is the first coach to lose to Baylor. Both are unforgivable in Sooner Land, especially the three losses to little brother upstate.
Forty-two years ago, the Sooners were struggling, and fans displayed signs to "Chuck Chuck" in reference to getting rid of coach Chuck Fairbanks. Fairbanks led the Sooners to a 10-1 record and No. 3 ranking in his first season in 1967. Oklahoma went 13-8 the next two years and began the 1970 season with two unimpressive wins before losing to Oregon State, 23-14, in Norman. The Sooners had a bye week before going to Dallas to take on Texas.
Barry Switzer, his offensive coordinator, suggested switching the offense to the Wishbone that brought tremendous success to the Longhorns. The Sooners switched to the new offense, but went through growing pains that year with a 5-3-1 record the rest of the season.
The Sooners returned to national prominence the next year and finished final nine years of the 1970s with a 95-9-2 record, including two national championships and seven Big Eight Conference titles. Switzer took over as head coach in 1973, and most of his tenure consisted of the wishbone attack. It vaulted Switzer into status of "King of College Football" as many fans like to refer to him. He added a third national championship under his watch in 1985. His win percentage of .837 percent (157-29-4) is the best among modern-day coaches. He won 12 conference championships in his 16 years as head coach and won eight of 13 bowl games.
The 2012 Sooners need a lot of changes. Landry Jones has not improved. He's not successful under pressure. He is pretty darn good when he's got time to throw, but when there's pressure, he gets the deer in the headlights look.
Kansas State defensive end Austin Davis told ESPN that the Wildcats exploited Jones' blind side.
"I noticed it in the first half," he said. "When we'd get upfield, he'd start jabbing his feet real quick and moving. That let us know that he don't like nobody in his blind side, and we tried to attack it all night."
Future opponents will try the same. Texas, for example, has two defensive ends (Alex Okafor and Jackson Jeffcoat) who combined for five sacks and 10 quarterback hurries in the Longhorns' first three games. You know they have to be licking their chops about this news.
The front seven for OU's defense is another trouble spot. No pressure on Kansas State's quarterback all night Saturday. Collin Klein completed 13 of 21 passes for 149 yards. He completed 4 of 5 for 72 yards in the fourth quarter, 3 of 3 for 60 yards to lead the Wildcats' final scoring drive.
There are some dangerous quarterbacks down the road—Texas Tech's Seth Doege, West Virginia's Geno Smith, and, believe it or not, David Ash at Texas.
K-State's running game, led by John Hubert's 130 yards, rolled up 213 yards. Again, a team like Texas has some powerful running backs who will need to be slowed down for the Sooners to have any chance of a victory in a couple of weeks.
Four decades ago, Fairbanks had wrestled with the idea of changing to a completely new offensive system. He knew something had to be done to save his job and for fans to toss out the "Chuck Chuck" signs.
With a week off before playing Texas Tech, Stoops must wrestle with some decisions now if he wants to return Oklahoma to the hunt for the national championship.